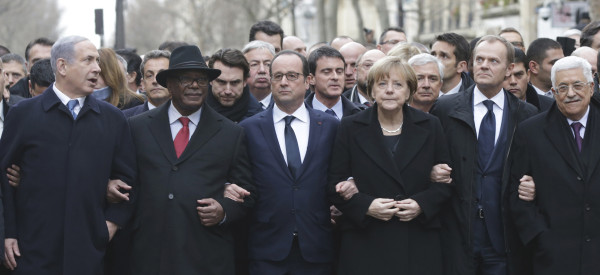 TOP STORIES
MILLIONS MARCH IN FRENCH ANTI-TERROR RALLY "More than 40 world leaders and what government officials say were between 1.2 and 1.6 million people streamed into the heart of Paris on Sunday for a rally of national unity to honor the 17 victims of three days of terror. French officials claimed that the march is the largest demonstration in the nation's history, with the Interior Ministry calling the event 'unprecedented' and stating that around 3.7 million people across France took place in rallies." This may be the most people to fill the streets of the capital since the Liberation of Paris in 1944, and thousands more participated in demonstrations around the world. Following criticism of the Obama administration for its comparatively small official contingent at the rally, Secretary of State John Kerry is traveling to France. France has mobilized 10,000 security forces in light of the attacks, and many are being deployed to protect Jewish schools. [AP]

THE DANGEROUS BUTTES-CHAUMONT NETWORK "They jogged together or did calisthenics along the hilly lawns and tulip-dotted gardens of Buttes-Chaumont, the public park in northeastern Paris built more than a century ago under Emperor Napoleon III. Or they met in nearby apartments with a janitor turned self-proclaimed imam, a man deemed too radical by one local mosque because of his call for waging jihad in Iraq … The shocking terror attacks last week in Paris have now made plain that the Buttes-Chaumont network produced some of Europe's most militant jihadists, including Chérif Kouachi, one of the three terrorists whose three-day rampage left 17 people dead and who was killed by the police." [NYT]
DIVERS RECOVER FLIGHT QZ8501'S BLACK BOXES Investigators hope to use the data storage devices to identify the cause of the flight's crash. [USA Today]
PAKISTANI SCHOOL WHERE TALIBAN MASSACRED 132 CHILDREN REOPENS The military is working to secure the school grounds, but also normalize the scene for the children as they resume their studies. [CNN]
CHAIRMAN OF THE JOINT CHIEFS OF STAFF CALLS FOR GUANTANAMO CLOSURE General Martin Dempsey called the prison "a psychological scar on our national values." [HuffPost]
WITH THE LEGALIZATION OF WEED, AN INFLUX OF HEROIN AND METH FROM THE MEXICAN CARTELS "Mexican traffickers are sending a flood of cheap heroin and methamphetamine across the U.S. border, the latest drug seizure statistics show, in a new sign that America's marijuana decriminalization trend is upending the North American narcotics trade. The amount of cannabis seized by U.S. federal, state and local officers along the boundary with Mexico has fallen 37 percent since 2011..." [WaPo]
INTRODUCING TRAIL TO THE CHIEF Welcome to HuffPost's weekly power rankings of the 2016 presidential horse-race. Each Monday we'll tackle candidates and campaigns, flacks and fixers, pundits and the press, donors and demographics to give you a snapshot of the craziness that is the 2016 race. [HuffPost]
WHAT'S BREWING
PEYTON MANNING'S LAST GAME Could the Broncos' 24-13 loss to the Indianapolis Colts be the end of the Peyton era? And everyone is still bitter about that Cowboys catch that looks like a catch to everyone but the NFL. [ESPN]
ALL THAT GLITTERS AT THE GOLDEN GLOBES From the best dressed to the winners, here's who sparkled at the 2015 Golden Globes. And of course hosts Tina Fey and Amy Poehler went out with a bang. [HuffPost]
ALL HAIL AMAL CLOONEY She rocked her first Golden Globes appearance, featured in Amy Poehler and Tina Fey's best joke of the night, heard George Clooney declare his undying love for her AND sewed the gloves she wore herself. [HuffPost]
WE HAVE A 'HOUSE OF CARDS' SEASON 3 TRAILER Premiered last night right after Kevin Spacey won best actor in a TV drama for his performance in season 2. [HuffPost]
GET YOUR PASSPORT, FAST Without losing your shirt. [HuffPost]
'HOW MILLENNIALS MOURN' "At the radio station where I now work, I'm young enough to be the daughter of many of my baby-boomer coworkers. The death of a parent is a common occurrence. My loss was acknowledged like every other: a card passed around to sign, a meal delivered to my home during funeral planning. But the brutal specifics of it felt so different from those of my colleagues who had buried 80-year-old parents. Didn't they realize?" [The Washingtonian]
MEET THE NETWORK MORE SECRET THAN TOR And being used to support "Silk Road Reloaded." [Motherboard]
THE ART OF THE HANDWRITTEN LETTER "Research has shown that the general act of writing by hand can promote quite a few physical and mental benefits, from improving learning abilities to fostering a more positive outlook on life. And when it comes to writing that is used as a form of communication between two people, namely letters and postcards, the impact of such messages lasts far longer than any alternative version offered in our high-tech world." [HuffPost]
ON THE BLOG
L'HUFFINGTON POST EDITORIAL DIRECTOR: THE CONFLICT HAS COME TO US "The simile is not misplaced -- terrorism is an alien invasion, it is exactly what we thought was from another place, something unimaginable, which has materialized. That is the essence of the events in France -- the impossible has become real. And the world is beginning to realize what we have ahead of us." [HuffPost]
BEFORE YOU GO
~ Everybody's favorite Golden Globes hosts released the trailer for their movie, "Sisters," last night.
~ How tiny computers will rule the world.
~ Your snowman is pathetic compared to these brothers' snow sculpture.
~ All of the cookie dough recipes -- forget salmonella.
~ When a robot buys a bunch of illegal drugs...
~ "Mad Men" is set to return April 5.
~ It's not just you -- hard cider is now a thing.
~ The most awkward of the awkwardness that was the season premiere of "Girls" last night along with Brian Williams' thoughts on THAT scene.
~ You can maybe (definitely maybe) fall in love with anyone after answering these 36 questions together.
~ "Wicked" could be coming to a movie theater near you in 2016.
~ Beyonce didn't just announce she was pregnant, did she?
Send tips/quips/quotes/stories/photos/events/scoops to Lauren Weber at lauren.weber@huffingtonpost.com. Follow us on Twitter @LaurenWeberHP. And like what you're reading? Sign up here to get The Morning Email delivered to you.
BEFORE YOU GO