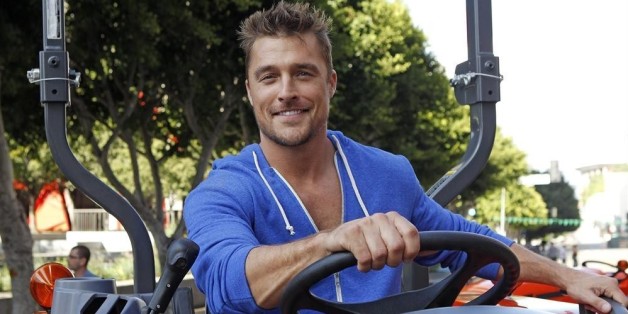 Welcome back to the wonderful world of white wine tears, roses, grammatical incorrectness and two-month journeys toward engagement. That's right, "The Bachelor" has returned -- this time with Chris Soules, the all-American, corn-loving #PrinceFarming at its helm. This season, we'll be recapping the highlights of each episode.
9 Things We Learned From Country Chris This Week
1. Not "playing by the rules" earns you a slow clap. Kimberly, one of Chris' rejects from last episode, decides not to tuck herself compliantly in the back of an SUV at dawn, instead returning to beg Chris for another chance to woo him. He decides to give it to her and the rest of the women are less than thrilled. Cue the fake smiles, unenthusiastic clapping and snarky interviews.
2. Zip-up hoodies are the new v-neck tees: no undershirt needed. Bachelor Chris wastes no time using his semi-outdoor shower and getting ready for his first group date with Jade, Tandra, Ashley I., Mackenzie, Kimberly and Tara. The only snag? He forgot that one traditionally wears an actual shirt underneath a zip-up sweatshirt. #Trendsetter
3. Being "country" means driving a tractor 75 percent naked and subjecting yourself to some light street harassment. The group date card reads: "Show me your country." And despite the fact that Ashley I. says she's "more Kardashian than country," the ladies are game. Turns out that showing your "country" side actually just means getting into a bikini, walking around LA while random men whistle at you and racing a very slow tractor in said bikini. Who knew?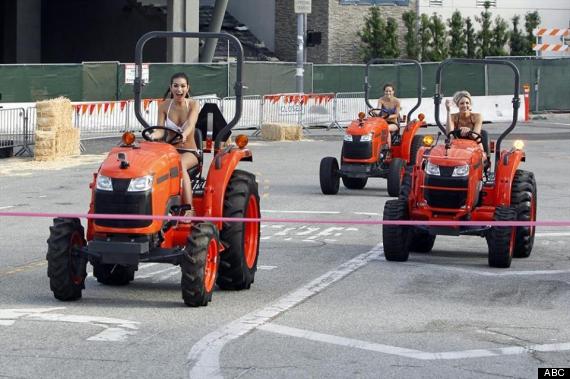 4. Discussing your belief in aliens is acceptable first date foreplay. Mackenzie somehow manages to disclose her penchant for aliens, her nose fetish and the fact that her son is named Kale during her one-on-one time with Chris -- and she still gets a rose (and some kisses). It's unclear which is more concerning: the fact that she thinks aliens are real or that she named her child after a leafy green.
5. When you're dating a new guy, break into his house. Since Chris lives "just up the driveway" from the girls, Jillian and Megan decide to sneak into his abode, try on his motorcycle helmet and smash their heads into the brick wall. Plus: If you wear a skimpy bikini bottom, ABC will literally censor your bottom half. (That is a thing that actually happened.)
6. Everything is amazing. Megan is amazing. Chris is amazing. The Grand Canyon is amazing. Helicopters are amazing. The rose is amazing. This "connection" on this "journey" is "amazing." Amazing.
7. "Death is zero amount romantic." Real quote after the "Til death do us part" group date card. Real truth.
8. Shooting zombies is sexy. Chris thinks all the women are super "cool." Plus, they're super hot and sexy when they shoot ABC interns dressed up as zombies. Unfortunately, Ashley S. seems to be having some sort of break with reality and her behavior is so genuinely concerning that I can't even make fun of it. Either she is an amazing actress who is playing the long con (fingers crossed, because that would be brilliant!) or she shouldn't have been cast.
9. One should never mention sex, but always bring up virginity. When it comes out that Ashley I. is a virgin -- horror of horrors! -- Mackenzie loses her sh*t. "Guys love taking your virginity," she explains, seemingly furious she can't even fake having her v-card since she already has a child. The women on this show seem banned from discussing their actual sex lives, but encouraged to play up the holy Virgin Mary card. To her credit, Ashley I. doesn't seem to think her virgin status should be such a big deal. (See: All of "The Bachelor's" weird sex issues playing out in one interaction.)
And The Final Rose Goes To...
SAFE: Kaitlyn, Megan and Mackenzie already have roses. Britt, Ashley I., Trina, Kelsey, Samantha, Jeulia, Amber, Tracy, Jillian, Jade, Nikki, Becca, Carly, Whitney ::pause for the final rose:: Ashley S. (yes, really)
ELIMINATED: (A less drunk) Tara, Kimberly, Alissa, Jordan
Next Week, On "The Bachelor"
Ominous music! Barred windows! Limo! Jimmy Kimmel! Sleeping Chris! More Jimmy Kimmel up close! Jimmy Kimmel's face really up close! Jimmy's here to help!
The Best Tweets About This Week's "Bachelor"
PHOTO GALLERY
Tweets About 'The Bachelor' Season 19, Episode 2