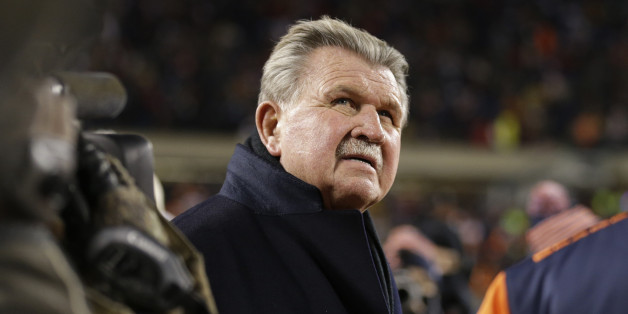 Former Chicago Bears coach and football player Mike Ditka is no stranger to the political arena: He's endorsed and donated to candidates, and he once considered running for office, but he's apparently never supported Democrats -- until now.
The Chicago Sun-Times reported Tuesday that Ditka donated $2,500 last month to Alderman Bob Fioretti, a Democrat who is among the two highest-profile challengers to Chicago Mayor Rahm Emanuel's re-election bid.
"Well, I think anything is better than what we have," Ditka told the outlet. "Same with the governor. That was proven already. Chicago is a great city. You deserve leadership and straight-up people to operate it. You know, shame on you."
The Sun-Times points out that Ditka has donated to numerous Republican candidates throughout the years, including former President George W. Bush and U.S. Sen. Mark Kirk, as well as the Republican National Committee. He also recently appeared with Republican Bruce Rauner in a campaign ad during the Illinois gubernatorial race. But it appears Ditka has never backed a Democratic candidate in a political race.
Fioretti, who describes himself as "a progressive leader on the Chicago City Council," is a member of the council's small Progressive Caucus, comprised of the mayor's most frequent dissenters.
Concerning Ditka's history of backing conservative candidates, Fioretti campaign spokesman Michael Kolenc said in a statement to The Huffington Post: "[We] welcome Coach Ditka's support, but to be clear: this endorsement does not change Bob's vision for the city, for the need for economic development in the ignored parts of Chicago, and the desire for safe streets and strong neighborhoods."
"Ditka, like a lot of other people, do not like the direction Chicago is headed in," Kolenc continued. "Bob is trying to move Chicago forward, and the progressive policies he has pushed for on City Council will give you an example of the policies he will push for as Mayor. Paid sick leave. Increased minimum wage. Elected school board. Transparency in city government."
An Emanuel campaign, for its part, told the Sun-Times in a concise statement, "Da Coach was a great Chicagoan."
The Emanuel campaign announced Monday that the mayor had agreed to take part in five debates -- at least two of which will be televised -- over a two-week period beginning Jan. 27, DNAinfo Chicago reports.
It is anticipated that Fioretti, Cook County Commissioner Jesus "Chuy" Garcia and businessman Willie Wilson will also participate in the debates.
Fioretti, whose campaign had been calling on the mayor to participate in at least five debates, released a one-word statement in response to the news: "Finally."
The latest polling in the race suggests that Emanuel -- whose numbers previously spelled trouble for the mayor -- is approaching 50 percent support, likely as the result of campaign ads that have been running consistently since mid-November.
Chicago's mayoral election takes place on Feb. 24. If no candidate wins at least 50 percent of the vote in the election, the top two candidates will move on to an April runoff election.
BEFORE YOU GO
PHOTO GALLERY
Mayors Of America's Largest Cities