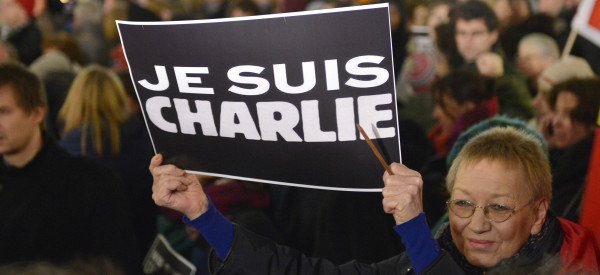 TOP STORIES
YEMEN'S AL-QAIDA CLAIMS RESPONSIBILITY FOR CHARLIE HEBDO ATTACK "Yemen's al-Qaida branch on Wednesday claimed responsibility for last week's deadly attack on a Paris satirical newspaper, with one of its top commanders saying the assault was in revenge for the weekly's publications of cartoons of the Prophet Muhammad, considered an insult in Islam." In the aftermath of a series of small actor and lone wolf attacks, Europe is beginning to adjust its focus on "a sort of roving firearms terrorist attack." [AP]

POST-ATTACK CHARLIE HEBDO ISSUE SELLS OUT IN PARIS The latest edition completely sold out before dawn. The cover, featuring the prophet Muhammad and the headline "All Is Forgiven" in French, has intensified the ongoing debate over free speech. [HuffPost]
ISLAMIC STATE VIDEO PURPORTS TO SHOW CHILD EXECUTING TWO RUSSIAN SPIES The child also appeared in a video for the Islamic State last year. [WaPo]
JOHN BOEHNER'S COUNTRY CLUB'S BARTENDER THREATENED TO POISON HIM Michael Robert Hoyt bartended for Boehner for five years at the Wetherington Golf & Country Club in Ohio. Hoyt told police he wanted to poison the Speaker of the House as he believed Boehner had "mistreated him." Reason number 743,985 not to tick off the wait staff. [HuffPost]
2016 BUZZ John Podesta's heading to Hillary, Mitt's hoping the third time's the charm, and Elizabeth Warren really wants people to stop asking her if she's running for president. [USA Today]
CHINESE POLICE SAVE 37 BABIES FROM CHILD TRAFFICKING RING The babies were being taken to prospective buyers in handbags and suitcases. [CNN]
'MADE IN THE USA' MAKING A COMEBACK "For years, the U.S. has ceded more and more of its manufacturing to lower-cost corners of the global economy. But some companies contend the U.S. has renewed its attraction. Wages are stable, for example, while China's have soared. The U.S. energy boom has reduced natural gas prices and kept a lid on electricity costs. Plus, more companies want to protect designs from overseas copycats, keep closer tabs on quality control and avoid potential disruption in supply chains that span oceans ... Hal Sirkin, a Chicago-based senior partner at Boston Consulting Group … said U.S. firms will do it 'not to be patriotic, but because they can make money.'" [WSJ]
WHAT'S BREWING
WOODY ALLEN IS MAKING AN AMAZON TV SHOW The future of internet TV is here. [Vulture]
GOOGLE TRANSLATE APP: TRAVELERS' NEW BEST FRIEND "An update to the Google Translate app, announced Wednesday, will add the ability to translate printed text by aiming your phone's camera at it -- even if you don't have an Internet or data connection." [HuffPost]
CLIMBERS CLOSE TO EL CAPITAN SUMMIT "On Day 18 of their epic journey, the duo could achieve an almost impossible goal by Wednesday night: free climbing the sheer granite face of El Capitan rock formation in Yosemite National Park using nothing more than ropes to save them from death." [WaPo]
ZOOEY DESCHANEL IS PREGNANT! She is expecting her first child with boyfriend Jacob Pechenik, whom she started dating this summer. [People]
DIRECTORS GUILD NOMINATIONS ANNOUNCED Clint Eastwood snuck right on in there. [Variety]
THE FIRST TRAILER FOR MELISSA MCCARTHY'S 'SPY' The film is the latest from Paul Feig, the director of "Bridesmaids." [Deadline]
THE CUNY SYSTEM: 'WHEN HIGH ACHIEVERS HAVE NO WHERE TO GO' "As part of an aggressive system-wide overhaul that began in 2000, the top five CUNY colleges -- Baruch, Hunter, Brooklyn, Queens, and City -- have been raising admission standards and admitting fewer freshmen from New York City high schools. Over time, records show that a two-tier system has emerged. CUNY's most prestigious colleges now favor a disproportionate number of Asian and white freshmen, while its overcrowded two-year community colleges have filled up with more black and Latino students." [The Atlantic]
STEPHEN HAWKING: WHY I'D BE A GOOD BOND VILLAIN "My ideal role would be a baddie in a James Bond film. I think the wheelchair and the computer voice would fit the part. I know little of popular culture, having spent my time on science." [Wired]
ON THE BLOG
EXTEND MATERNITY LEAVE "Just ask Google, because when they decided to extended their maternity leave for new mothers to five months and made it paid, what do you think happened? That's right, more women started coming back after maternity leave. That means they saved money by not having to find and train new talented workers to replace the women who decided not to come back after maternity leave." [HuffPost]
BEFORE YOU GO
~ "The Big Short" is coming to the big screen, with Brad Pitt, Christian Bale, and Ryan Gosling set to star.
~ Macklemore's baby news means we get to see him rapping about trash on Sesame Street.
~ No more carnitas at Chipotle for a while.
~ When you find massive mastodon bones in your backyard...
~ Break out the spoons: Ben and Jerry's just introduced a cookie core flavor.
~ David Fincher and Ben Affleck are doing a remake of Hitchcock's "Strangers on a Train."
~ Ann Curry is leaving NBC.
~ Put these cheap winter superfoods in your grocery cart.
~ Google doesn't appear to care about a bug hitting 60% of Android phones.
~ This guy was trapped, fully conscious, in his body for 12 years watching Barney.
~ Miley Cyrus shared a bunch of Polaroids from her tour, and Taylor Swift-esque they are not.
~ You can ship your enemies glitter.
~ See the commercial series a casino spent $70 million on that stars Leonardo DiCaprio, Martin Scorsese, and Robert De Niro.
~ Pizza Hut is joining the gluten-free team.
~ Video has emerged of Jamie Lynn Spears wielding a knife to break up a fight -- girl does NOT mess around.
~ Dylan McDermott and Maggie Q are engaged!
~ And "Community" will return on Yahoo March 17.
Send tips/quips/quotes/stories/photos/events/scoops to Lauren Weber at lauren.weber@huffingtonpost.com. Follow us on Twitter @LaurenWeberHP. And like what you're reading? Sign up here to get The Morning Email delivered to you.