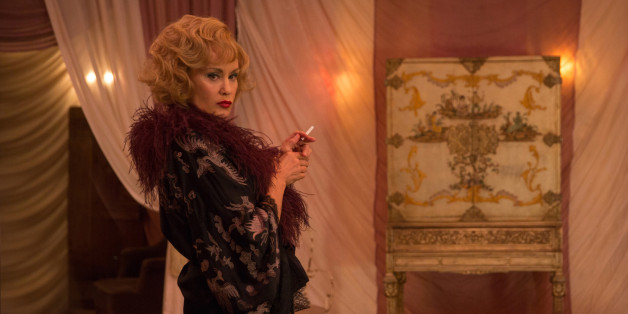 A lot of bizarre shocking stuff happened in the penultimate episode of "American Horror Story: Freak Show," but most important was another huge connection made to a previous season.
Spoilers ahead if you haven't seen "AHS: Freak Show" Episode 12, "Show Stoppers."
First of all, let's not ignore the fact that your Oscars host, aka Neil Patrick Harris, cut Emma Roberts in half last night, had sex with a two-headed woman and then murdered his wooden puppet and cried over it. No big deal. Now moving on to the important stuff ...
Murphy revealed last October that all the seasons of "American Horror Story" are connected. The first major connection happened in the "Freak Show" mid-season finale when Sister Mary Eunice from Season 2 appeared, revealing how Pepper had arrived at Briarcliff in "Asylum." But now "AHS" has made an even further connection between the second and fourth seasons with another character: Dr. Arden.
Fans of the series will remember Dr. Arthur Arden (James Cromwell) from "Asylum," the physician at Briarcliff Manor who conducts sadistic experiments on patients. It's revealed that Dr. Arden is a Nazi war criminal who's birth name was Hans Gruper. In Season 2, we get a brief flashback of Gruper at a concentration camp (who is played by Cromwell's real-life son, John Cromwell). Arden also amputated Shelley's (Chloe Sevigny) legs in Season 2.

Image via Tumblr
It seemed likely that Arden could be connected to "Freak Show" in relation to Elsa Mars' origin story: while shooting a snuff film in 1932 Berlin, Elsa was drugged and her legs were cut off with a chainsaw by German men. Fans speculated that a young Dr. Arden could've been behind this, and they were right. Wednesday's episode revealed, it was him.

Image via Tumblr
"Freak Show" flashed back to the 1930s when Massimo Dolcefino (Danny Huston), Elsa's lover at the time, attempted to kill the man responsible for taking her legs. His name was Hans Gruper (played again by John Cromwell). Massimo failed to kill him, so Gruper tortured the man for years until a German soldier set him free. It's unknown what happened between then and when Gruper, aka Arden, arrived at Briarcliff when it operated as a tuberculosis ward, but we finally know that he was the same man.
And just for fun (or maybe it has purpose), Murphy threw in another Season 2 connection. While Elsa and her "monsters" are toasting and about to watch a movie, they all plead to Elsa, "Not 'The Sign of the Cross' again!" If you remember from "Asylum," the 1932 film "The Sign of the Cross" was Sister Jude's movie of choice. Could it just be a coincidence or meaningless wink from Murphy that both of Jessica Lange's characters enjoy that film? Hmm.
The season finale of "American Horror Story: Freak Show" airs on Wednesday, Jan. 21, at 10:00 p.m. ET on FX.
BEFORE YOU GO
PHOTO GALLERY
"American Horror Story"