If you're anything like us, you love shoes so much that you can almost never pass up a shoe sale. And you probably have enough pairs of black boots to dress an army.
But what do you really know about your beloved shoes? We bet you don't know the story behind the Louboutin red sole. And what do your shoes say about you? If you're making a modest salary, you probably don't wear too many heels. Read on for 11 things you never knew about the shoes you wear all the time.
1. Men were the first people to wear heels.

Credit: imgur
In the 10th century, according to Slate, men who rode horses needed their boots to have heels in order to stay in their stirrups. (Ever wonder why cowboy boots have heels?) And since owning horses was a sign of wealth, heels became a signifier of aristocracy and high social standing, not gender.
2. Platform shoes used to be worn by Greek actors to signify status.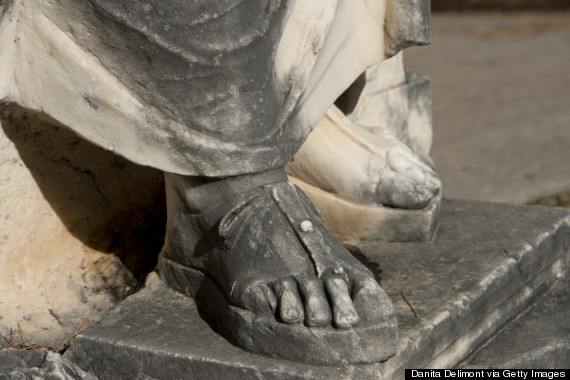 When the Ancient Greeks staged plays, costumes were crucial for audiences to identify characters. The Kennedy Center writes that tragic actors would don shoes called "buskins," or raised platform shoes, to symbolize their superiority over comic actors, who would wear plain socks.
3. Sneakers got their name because their rubber soles do not make noise.

Credit: Giphy
In the late 1800s, people started calling sneakers their name because they had rubber soles which enabled people to walk or "sneak" around without making a sound.
4. The red sole on Louboutins are inspired by an Andy Warhol drawing.

Credit: Giphy
According to The New Yorker, in 1993, Louboutin wanted to make a shoe inspired by Warhol's "Flowers" drawing. When the prototype of the shoe arrived, he was pleased with it but still couldn't shake the feeling that "the drawing still was stronger." He looked around and saw an assistant painting her nails a bright red color. He grabbed her nail polish and painted it all over the black sole of the shoe.
5. Your salary might determine the type of shoes you wear to work.

Credit: Giphy
According to a Beso.com poll conducted in 2013 among 6,750 women, 71 percent of women polled who make less than $40,000 a year never wear heels to work, while 21 percent who make $150,000 and more wear heels to work every day.
6. There's more to your shoe addiction than just trying to keep up with trends.

Credit: Giphy
In a 2010 interview with Cosmopolitan, Suzanne Ferriss, PhD, and editor of "Footnotes: On Shoes," said that a woman's addiction to buying shoes triggers an area in the brain's prefrontal cortex that is called the collecting spot. "Shoes
are a collector's item, whether women realize they perceive them that way or not," she said. Think about it: Many women display their shoes on very organized racks.
7. Audrey Hepburn could be credited with bringing loafers into style.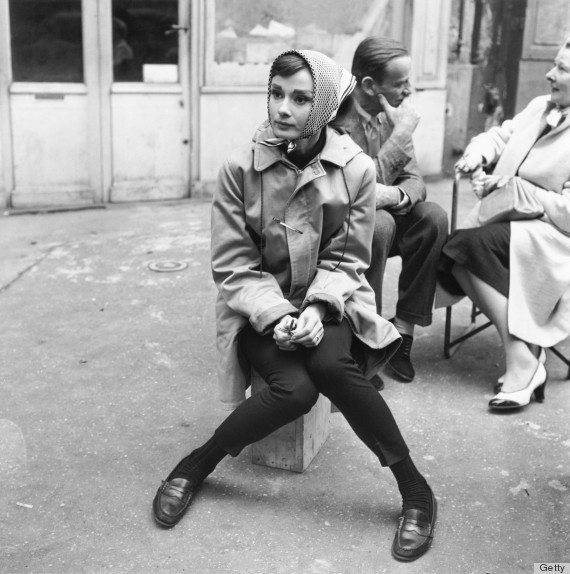 As we've noted before, Hepburn was able to make loafers look just as great on women as they do on men. The Wall Street Journal credits the rise in loafers' popularity to Audrey Hepburn wearing them in the 1957 film, "Funny Face," in which the actress "wore (and danced in) black leather Ferragamos as an anti-fashion beatnik bookstore clerk."
8. Dr. Martens were originally considered practical working men's boots for their air-cushioned soles.
The original Dr. Martens boot was created by the German inventors, Dr. Maertens and his friend, Dr. Funck, who invented the shoe's air-cushioned sole. A British boot manufacturer released the shoe in 1960. It was marketed to working men as reliable footwear, and became popular in the 1970s among Britain's counterculture and punk-music movement.
9. Salvatore Ferragamo invented the wedge shoe when Italy was suffering from closed trade with other countries.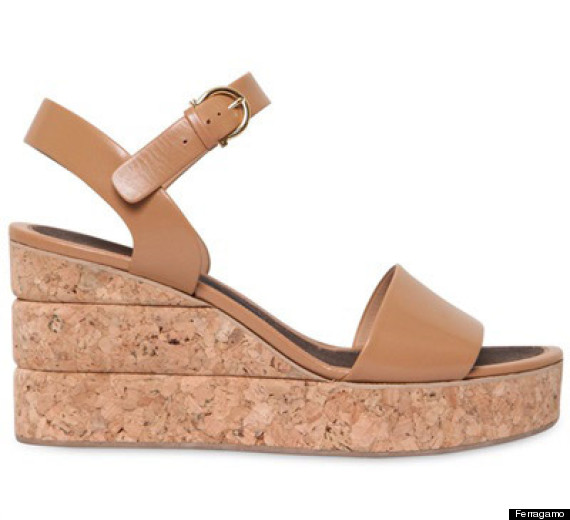 Salvatore Ferragamo 80MM Madea Leather & Cork Wedges, $674; luisaviaroma.com.
The wedge shoe was invented out of necessity in the 1940s. Due to the economic sanctions against Italy, Ferragamo could no longer purchase steel for his traditional heels. According to the fashion house's website, Ferragamo wrote at the time, "I experimented with pieces of Sardinian cork, pushing and gluing and fixing and trimming until the entire space between the sole and the heel was blocked solid." Apparently, after a few weeks, it became one of the most popular styles.
10. Havaianas are inspired by Japanese sandals.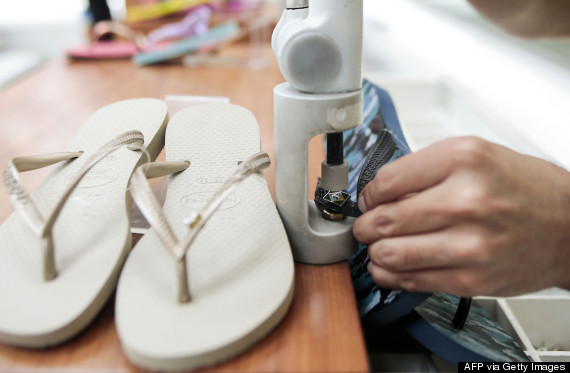 According to the brand's website, the iconic Havaianas flip flop isn't smooth on the sole because it is inspired by the Zori, which the brand describes as "typical Japanese sandals made of fabric straps and rice straw soles." That's why the foot-bed of Havaianas have a textured rice pattern.
11. Even though hardly any photos of him exist on the Internet, Jeffrey Campbell is a real person.

Credit: 38.media.tumblr.com
Since he remains a total mystery, many people believe that Jeffrey Campbell is a fictional man created to represent the company. But there is an actual Jeffrey Campbell, and he did create, and still runs, the successful shoe line.
In 2013, Buzzfeed attempted to actually speak to Campbell, but was repeatedly denied. They were told by the brand's in-house spokesperson that the company prefers to "keep a low profile and let the shoes and the girls who wear them be our voice." The company or the man doesn't even have a Wikipedia page. Who are you, Jeffrey?
BEFORE YOU GO
PHOTO GALLERY
Celebrities in Sneakers