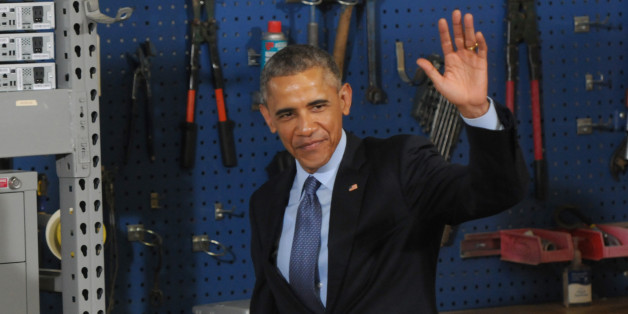 New national polls released on Wednesday confirm a rise in President Obama's approval rating. Republicans lose their post-election advantage as the party Americans prefer to set the agenda. And many blame a double standard for hurting women in business. This is HuffPollster for Thursday, January 15, 2015.
OBAMA'S APPROVAL REBOUNDS IN TWO POLLS - Sarah Dutton, Jennifer De Pinto, Anthony Salvanto, and Fred Backus: "President Obama's overall job approval rating has risen seven points since last October, although it still remains below 50 percent. Forty-six percent of Americans now approve of the job the president is doing, while just as many disapprove. His approval rating is now at the level it was a year ago. The bump up in his approval comes largely from his own party and independents. Forty-five percent of independents now approve of the job Mr. Obama is doing, up 11 points from October….Mr. Obama appears to be getting some credit for an improving economy. Forty-three percent say Mr. Obama's policies have helped the economy, while fewer -- 34 percent -- say his policies have hurt." [CBS]
Helped by shift in economic views - Pew Research: "The latest national survey by the Pew Research Center, conducted Jan. 7--11 among 1,504 adults, finds that Obama's job approval has risen five points since December (42%). The president's job rating changed very little over the course of 2014. Obama is being helped by a steady improvement in public views of the nation's economy. Currently, 27% say the economic conditions are excellent or good, up from 16% a year ago. Perhaps more important, almost twice as many expect the economy to be better than worse a year from now (31% vs. 17%). For the first time in five years, more Americans say Obama's economic policies have made conditions better (38%) than worse (28%); 30% say they have not had much of an effect. And Obama engenders more confidence on the economy than do the leaders of the new Republican majority in Congress. But the new survey finds stubborn skepticism about the strength of the economic recovery, and little evidence that people think that their personal financial fortunes have improved. " [Pew]
But approval remains flat in a third poll - Dana Blanton: "As the 114th Congress gets underway, the vast majority of voters continue to give legislators the thumbs down, and many people are unfamiliar with the leaders on Capitol Hill. Still, a majority thinks the new GOP-led Congress will trump the president in the next two years. Only a third of voters, however, say that's a good thing….When it comes to individual performances, Obama's job rating is similar to his personal favorable rating -- both are virtually flat despite low gasoline prices and improving views of the economy. Currently 42 percent of voters approve of the job he's doing, while 52 percent disapprove. Last month it was 42--53. " [Fox]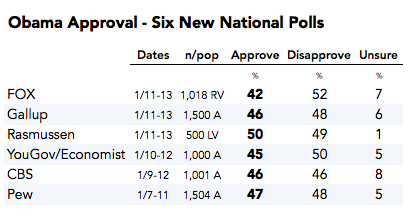 How much has Obama's rating increased? The answer, as Brendan Nyhan recently put it, depends on how much you trust the most recent polls. The default trend line of the HuffPollster chart, which tracks and combines all of the publicly available national polls, estimates Obama's current approval rating at 44.4 percent, up just one point since late October. Approval rises 3.6 points, to 46.2 percent, when we set the chart to "less smoothing," an option which makes the trend line more sensitive to shifts in opinion. Two factors argue that the "less smoothing" setting is more valid: First, of the six new polls released on Wednesday, including the latest daily tracking from Gallup and Rasmussen and the weekly update from YouGov, all except the new Fox poll show an approval percentage above the default chart's current 44.4 percent. Second, over the first six years of the Obama administration, the "less smooth" trend introduces little or no variation that appears truly random, while it also picks up real movement -- like Obama's short-lived bump following the death of Osama bin Laden in May 2011 -- that the default trend washes out. [Pollster default trend, "less smoothing" trend, @BrendanNyhan]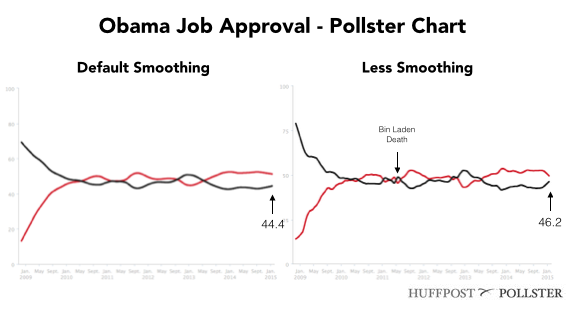 Not everyone is more enthusiastic - HuffPollster: "Democrats have wrestled with how much credit to take for a shift that has yet to personally benefit many Americans. Surveys, however, show a widespread sense that the national economy is growing stronger. Measures of economic confidence, which were negative for nearly seven years, crossed into positive territory at the end of December and have since continued to climb….Republicans themselves remain largely exempt from the growing optimism. Those in the Pew survey were 25 points less likely than Democrats to rate the economy as excellent or good, while an Economist/YouGov poll found that just 7 percent of Republicans think the nation is headed in the right direction." [HuffPost]
NATION SPLIT ON WHICH PARTY SHOULD LEAD - Andrew Dugan: "Americans are divided on which part of their divided government should have more influence over the direction the nation takes -- Democratic President Barack Obama (40%) or the Republicans in Congress (43%)....Republicans have, after their electoral victory last November, assumed control of both chambers of Congress, but appear to have lost their immediate post-election glow. Just after the midterm elections that so decisively favored Republicans, 53% of Americans said they would prefer that Republicans in Congress have more influence over the nation's direction, whereas 36% opted for Obama, for a GOP-tilted spread of 17 percentage points. The spread is now within the margin of error, though mostly as a result of Republicans losing support -- 10 points -- rather than Obama gaining it. The 40% of Americans now preferring that Obama have the greater influence is only modestly higher than his record low of 36% set in November. Twelve percent of Americans, up from 8% in the last reading, do not choose a side, saying 'both' or 'neither' should have the greater influence….Fewer than four in 10 self-identified independents today say they would prefer that congressional Republicans have the edge in setting the nation's direction, down from a majority (53%) in November." [Gallup]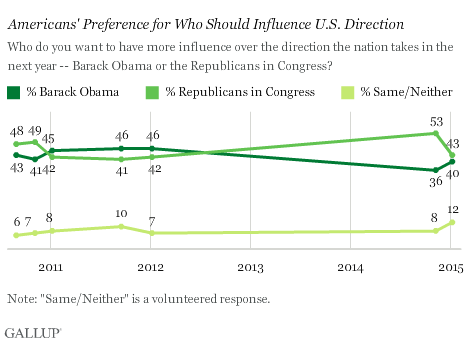 AMERICANS THINK WOMEN ARE HELD BACK BY DOUBLE STANDARDS - Pew: "According to the majority of Americans, women are every bit as capable of being good political leaders as men. The same can be said of their ability to dominate the corporate boardroom. And according to a new Pew Research Center survey on women and leadership, most Americans find women indistinguishable from men on key leadership traits such as intelligence and capacity for innovation….So why, then, are women in short supply at the top of government and business in the United States?...[T]opping the list of reasons, about four-in-ten Americans point to a double standard for women seeking to climb to the highest levels of either politics or business, where they have to do more than their male counterparts to prove themselves. Similar shares say the electorate and corporate America are just not ready to put more women in top leadership positions." [Pew]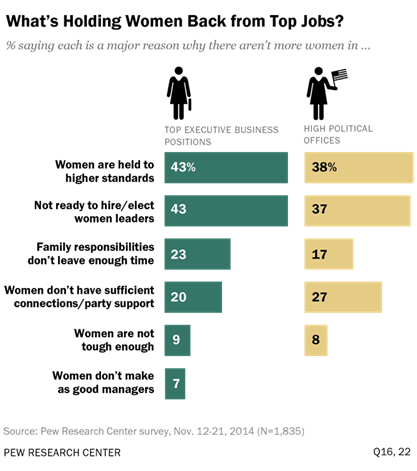 HUFFPOLLSTER VIA EMAIL! - You can receive this daily update every weekday morning via email! Just click here, enter your email address, and click "sign up." That's all there is to it (and you can unsubscribe anytime).
THURSDAY'S 'OUTLIERS' - Links to the best of news at the intersection of polling, politics and political data:
-Mentions of jobs as a problem hit a 6-year low. [Gallup]
-Americans recognize an improvement in the broader economy, but many don't see their own situations improving. [YouGov]
-Romney leads Bush two-to-one in a head-to-head matchup among Republicans. [YouGov via @ForecasterEnten]
-The French have positive views of both Jews and Muslims. [Pew]
BEFORE YOU GO
PHOTO GALLERY
Obama With Celebrities