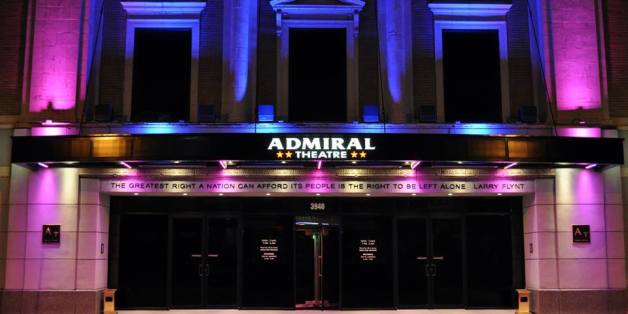 After more than 25 years in the community, one Chicago strip club is getting noticed for its outer beauty.
On Tuesday, The Admiral Theatre in the city's North Side neighborhood of Albany Park was recognized as a "Block Star Business" by local organization Albany Park Neighbors, which praised the club for beautifying the community.
"The first reaction we had was that this might be someone playing a prank on us," Michael Spalding, the Admiral Theatre's brand manager, told The Huffington Post. "Indeed, it was real. We graciously accepted the award and we're proud that we're able to contribute to the beautification of the neighborhood."
Spalding said a panel of neighbors "unanimously" nominated the club for a "Block Star" award, a quarterly designation issued to different local businesses.
"Block Star recognizes the exterior tidiness of a business, such as keeping sidewalks clear of snow and litter, and keeping windows free of flyers and trash," Albany Park Neighbors described on Facebook.
According to Spalding, Admiral owner Sam Cecola, who also owns strip clubs in Las Vegas, puts a lot of effort into the building's appearance. He updates and upgrades the facade of the club -- including the brick, granite and sidewalks -- every three to five years. In addition, he has a cleaning crew tidy up around the building every day.
"The nature of this business always raises a few concerns and eyebrows," Spalding said. "Our business is unique in that we are an adult entertainment-slash-theater-slash-burlesque and cabaret theater rather than your run-of-the mill strip club."
The club -- whose overall demographic ranges from 18-year-old college students to people in their 40s and 50s (including lots of married couples) -- is an alcohol-free establishment. This allows the club to provide fully nude performances rather than just topless ones.
"We're a fun, clean entertainment spot," Spalding added. "We don't tolerate any kind of shenanigans here."
The Admiral also helps out the community -- in a way only a strip club can: Around the holidays, the club holds its annual "lap dancing for the needy" toy drive, as well as other fundraisers that benefit neighborhood groups like the Albany Community Center.
"Part of that goes back to the culture that's been established here by the owner," Spalding said. "All of us who work here have the same mindset: Let's all contribute and make this business at a different level and get out of that stereotype of a strip club as a nasty, dirty environment."
Alderman Rey Colon, 35th Ward, says the outside out the club is definitely top-notch. In a statement to the Sun-Times, he said the club had "one of the most attractive and well-maintained buildings in Albany Park" and that other businesses should follow its example.
While several neighbors praised the neighborhood group for giving the club the award, not all residents were so enthusiastic. Several comments left on Albany Park Neighbors' announcement on Facebook were critical of having such a business in the area at all.
"We understand this is controversial. We're not naive," Shylo Bisnett, a founding member of Albany Park Neighbors, told DNAinfo Chicago. "Regardless of what people think about their business, it's difficult to argue they don't deserve it. They're impeccable. It looks classy, and people voted for them."
BEFORE YOU GO
PHOTO GALLERY
Actors Who Played Strippers