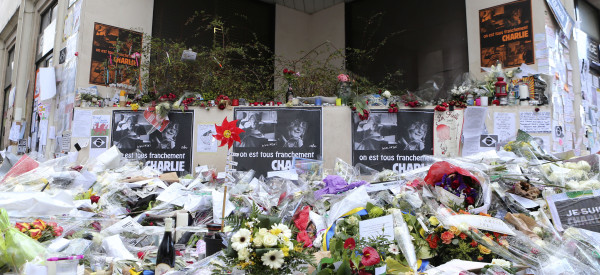 TOP STORIES
EXTENT OF AL-QAIDA INVOLVEMENT IN PARIS ATTACK DISPUTED "US and French intelligence officials are leaning toward an assessment that the Paris terror attacks were inspired by al-Qaida but not directly supervised by the group, a view that would put the violence in a category of homegrown incidents that are extremely difficult to detect and thwart." [AP]

ISIS CONTINUES TO GAIN GROUND IN SYRIA "More than three months of U.S. airstrikes in Syria have failed to prevent Islamic State militants from expanding their control in that country, according to U.S. and independent assessments, raising new concerns about President Barack Obama's military strategy in the Middle East." And after the ISIS CENTCOM Twitter hack, military families reconsider their online lives. [WSJ]
U.S. RELEASES FIVE GUANTANAMO PRISONERS The five prisoners, who had been held for over a dozen years, are being released to Oman and Estonia. [NYT]
SATELLITE IMAGES SHOW BOKO HARAM DEVASTATION "Satellite images show widespread destruction in two Nigerian towns that were recently attacked by Islamic extremists, an international human rights group said Wednesday. Amnesty International said the detailed images of Baga and Doron Baga, taken before and after the attack earlier this month, show that more than 3,700 structures were damaged or completely destroyed." [AP]
SECRET SERVICE FORCES FOUR TOP OFFICIALS OUT "The Secret Service is forcing out four of its most senior officials while two others are retiring -- the biggest management shake-up at the troubled agency since its director resigned in October after a string of security lapses. The departures will gut much of the Secret Service's upper management, which has been criticized in recent months by lawmakers and administration officials who say it has fostered a culture of distrust between agency leaders and its rank-and-file and made poor decisions that helped erode the quality of this once elite agency." See who's left in the leadership structure. [WaPo]
FORGET PRESCRIPTION DRUGS People are picking heroin over oxycodone and morphine. [Reuters]
ANOTHER UBER DRIVER HAS BEEN ACCUSED OF SEXUAL ASSAULT The Illinois Uber X driver was charged with criminal sexual assault, unlawful restraint and kidnapping for an assault that allegedly took place July 31. [HuffPost]
MORTGAGE APPLICATIONS UP 49% From the week ending January 9 last year. [WSJ]
WHAT'S BREWING
CAESARS HAS A GAMBLING PROBLEM The company is looking to trim some of their $18.4 billion in debt by declaring bankruptcy for the Caesars Entertainment Operating Co. unit. [AP]
PROSECUTORS TRIED TO BLOCK ADNAN FROM 'SERIAL' FROM APPEALING "The wildly popular podcast 'Serial' is over, but the real-life case continued Wednesday with prosecutors seeking to deny Adnan Syed's Hail Mary attempt to appeal his murder conviction." [HuffPost]
TWO AMERICANS CONQUER 'IMPOSSIBLE' YOSEMITE ROCK CLIMB "Tommy Caldwell and Kevin Jorgeson became the first to 'free-climb' the rock formation's Dawn Wall, a feat that many had considered impossible. They used ropes and safety harnesses to catch them in case of a fall, but relied entirely on their own strength and dexterity to ascend by grasping cracks as thin as razor blades and as small as dimes." [WaPo]
OSCAR NOMINATIONS ANNOUNCED TODAY Fingers crossed for Miles Teller… [CNN]
COFFEE GENIUS: THE NASA OF COLUMBIA "I'm standing in a room filled with chemistry sets, infrared sensors, lab notebooks, and hundreds upon hundreds of zip locked bags of coffee beans, each looking exactly the same but each tasting ever so slightly different. A man named Gustavo shakes out 11 grams of coffee in a bag labeled with a six-digit number, and pops it into an industrial-looking machine. He pours out exactly 150 milliliters of water, puts it in the machine, and heats it to exactly 194 degrees. A couple minutes later, I'll try the best cup of coffee I've ever had in my life." [Motherboard]
THE CAST FOR 'WET HOT AMERICAN SUMMER' IS COMPLETELY STACKED The return of the 2001 cult-classic could not have more of our favorites. [Vanity Fair]
GWYNETH TALKS BRAD PITT, BEN AFFLECK BREAK-UPS Guess who was the one that got away? [Vanity Fair]
KEEP THE WEIGHT OFF "An estimated 20 percent of overweight and obese Americans have lost weight and kept it off -- which might make you feel alternately inspired and a little underwhelmed. There are a lot of opinions about losing weight, but what many dieters learn firsthand is that it can be just as difficult, if not more so, to maintain that weight loss, and yet the discussion surrounding maintenance is noticeably quieter." [HuffPost]
ON THE BLOG
FORGET YOUR NEW YEAR'S RESOLUTION "January 1 is no longer a new beginning, it's a deadline. Don't think that you can hide behind your cart full of cute PJs and juice boxes in the Target checkout line … I expect that you've been guilting yourself into being a better, thinner, more patient and more awake YOU than you were in 2014? Happy New Year!" [HuffPost]
BEFORE YOU GO
~ The rise of Yik Yak, an app that allows you to share anonymous posts with people nearby.
~ If you're a fish in a river near a major music festival, you may soon be tripping on ecstasy.
~ When Maroon 5 shows up at your wedding...
~ In blackhole news, here are 49 epic Wikipedia entries.
~ You look at art in museums around the world, but what does the art look at?
~ Avatar 2 is delayed until 2017.
~ Would you be a good restaurant manager?
~ This might be the scariest found footage movie for today's Internet-obsessed generation.
~ Relax and watch lava drip into the ocean.
~ What's in imitation crab meat.
~ And ICYMI, Vogue declared the Ugg boot to be back in style -- so you're totally justified on slogging through the wintery mix in the ugliest boots around.
Send tips/quips/quotes/stories/photos/events/scoops to Lauren Weber at lauren.weber@huffingtonpost.com. Follow us on Twitter @LaurenWeberHP. And like what you're reading? Sign up here to get The Morning Email delivered to you.