Co-host of CBS This Morning Gayle King says that a lot of people still know her as Oprah's best friend, and she never shies away from that. "I see myself standing in her light, not in her shadow," Gayle says. So how did they end up meeting? Gayle and Oprah worked together at a tv station in Baltimore in their early 20s, where Oprah was a news anchor and Gayle was a production assistant. When a snowstorm hit the area, Oprah offered to let Gayle stay at her house. "We didn't really know each other," says Gayle, "but she was just that kind of girl even then. When I said didn't have any clothes with me, she said 'you can wear mine,' and when I said I didn't have any underwear she said, 'you can borrow mine, it's clean!" Gayle and Oprah got to know each other that night, and found that they had similar philosophies and interests. They've been friends ever since!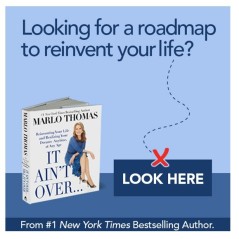 Add Marlo On Facebook:
Follow Marlo on Twitter:
Sign up to receive my email newsletter each week - It will keep you up-to-date on upcoming articles, Mondays with Marlo guests, videos, and more!