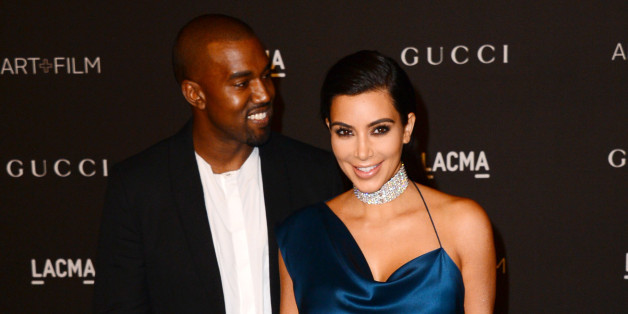 Is there any better way to celebrate love than by diving into Kim Kardashian and Kanye West-themed entrees?
Brucie, a restaurant located in in Brooklyn's Cobble Hill neighborhood, is serving up two $100 prix fixe menus that are all about Kimye this Valentine's Day -- and yes, there's a course called "Imma Let You Finish," along with lots of "K" names.
"We created two prix fixe menus, one dedicated to Kim and one dedicated to Kanye," Brucie's general manager Megan Scolaro told The Huffington Post. "The idea behind the food aesthetic is L.A. meets Paris. We're all about homages and themes over here and thought this would be fun and playful."
It's not the first time Brucie has played with food: they're also famous for last year's Beyonce and Jay-Z themed Valentine's Day menu and a plague-themed menu created last Halloween.
Check out the full Kimye menu below:
KIM
AMUSE BOUCHE: Stacked 24 Karrot Terrine -- dill kreme fraiche, Midori shot
COURSE ONE: Stuffed Kalimari -- kauliflower, pistachio, raisin, salsa verde
COURSE TWO: Sticky rice balls --kim-chi, honey mascarpone glaze, sesame
COURSE THREE: Mak N Kheese --elbows, Scharfe Maxxx, Cabot clothbound cheddar, white truffle
COURSE FOUR: Khicken Fried Rump Roast -- kabbage, pickled pear, buttermilk ranch
COURSE FIVE: Karrot Kake -- Goldschlager, salted karamel
KANYE
AMUSE BOUCHE: "Good Life" -- smoked oyster, caviar, brioche, lillet blanc
COURSE ONE: "Gold Digger" -- beets, gold leaf, saffron aioli, hazelnut dirt
COURSE TWO: "All Foie's Down" -- foie gras pate, crepe, cognac, smoked cherry sauce, quail egg
COURSE THREE: "My Beautiful Dark Twisted Fantasy" -- squid ink tagliatelle, duck confit, coconut, microgreens
COURSE FOUR: "Bound 2" Pork Roulade Bourguignon -- celeriac puree, artichoke, parsley salad
COURSE FIVE: "Imma Let You Finish" -- pernod yeezecake, chantilly cream
KIMYE (TO SHARE):
The North West: Pacific northwest salmon en croute, bacon braised greens
"No Church In The Wild" Mushroom Polenta -- pumpkin pistu, chiriboga blue
Want to read more from HuffPost Taste? Follow us on Twitter, Facebook, Pinterest and Tumblr.
BEFORE YOU GO
PHOTO GALLERY
Kim And Kanye Matching