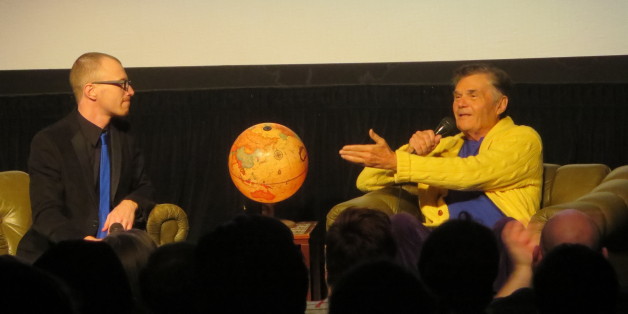 Consider this a lesson in saying "Yes" more often.
At the Riot LA Comedy Festival on Saturday, legendary funny man Fred Willard sat down for a live interview on The Classic Showbiz Talk Show with Kliph Nesteroff to talk about his 55-year career in comedy.
After discussing his humble beginnings performing comedy at folk music shows in New York's West Village -- where he couldn't even request a "blackout" for his sketches -- and reflecting on how his 1977 parody talk show "Fernwood 2 Night" was the original "Comedy Bang! Bang!" (among other things), Willard regaled the audience with a cringe-worthy tale of missing out.
Willard has said before that he was offered the leading role in the classic parody film "Airplane!" and turned it down because of a scheduling conflict, but on Saturday he explained that previous negative reviews had affected his decision as well.
"That year, a lot of movies had gotten terrible reviews. I had done a movie that was supposed to be called 'Traffic Court' that had reviewers [saying], 'Doesn't anyone ever READ these scripts?' So, they sent me the script for 'Airplane!' and if you remember seeing it, it's all puns and plays on words. I was doing a show at the time called 'Real People' in D.C. but I read the script and said, 'Oh no, there's no plot.'" I read it again, and I threw it across the room. I really wished there was something there because I was going to be the starring role."
After two readings, the script for "Airplane!," with all its disjointed sight gags and ludicrous plot, didn't strike him as an instant classic. He passed on it after rationalizing his decision with his manager. The part ended up going to Robert Hays.
"He said, 'Fred, it's going to conflict with 'Real People,' you're going to be working long hours, if you don't want to do it, just don't do it.' So I said, 'Okay, I don't want to do it. I don't want to get another bad review saying 'Doesn't anyone read these movies ...' Because I READ THE DAMN THING TWICE AND THREW IT AGAINST THE WALL!"
It wasn't until later on, when he was working on the movie "First Family" with Director Buck Henry at Warner Bros. Studios and Henry said, "I just saw this summer's big hit ... 'Airplane!'"
"I said, 'Oh ... Jeez,'" Willard remembered. Luckily, his wife was there after he found out what a mistake he had made, and knew exactly what to say to make him feel better:
"Fred, don't worry, if you had been the star it might not have been that successful."
BEFORE YOU GO
PHOTO GALLERY
Comic Genius Portraits