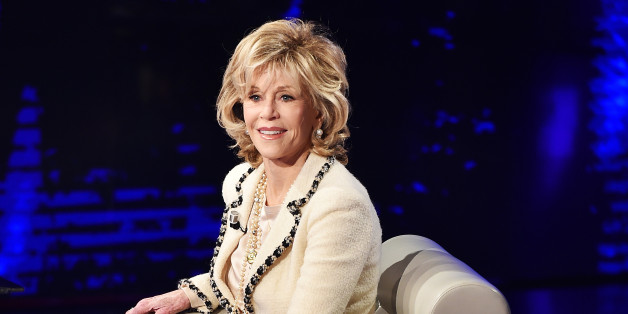 Jane Fonda has called her infamous Vietnam photograph a "huge mistake." After drawing protesters around an appearance in Maryland on Saturday, the 77-year-old addressed the issue which has led to her being labeled as "Hanoi Jane."
"Whenever possible I try to sit down with vets and talk with them, because I understand and it makes me sad," Fonda said, in response to an audience-submitted question. "It hurts me and it will to my grave that I made a huge, huge mistake that made a lot of people think I was against the soldiers."
The Frederick News-Post reported that many of the protestors were veterans. They rallied outside of the theater where Fonda was scheduled to speak for about two hours, booing those who entered and holding signs which read, "Forgive? Maybe. Forget? Never."
In 1972, Fonda traveled to Hanoi in North Vietnam. She posed for the now-notorious photo, sitting on an anti-aircraft battery and wearing a helmet. She spoke out about attacks along the Red River, and was widely believed to be against American soldiers.
This is not the first time the actress has addressed her reputation as a "traitor." In 2011, she wrote a blog for HuffPost, hoping to tell the "truth" about her story. "These lies have circulated for almost 40 years," she wrote, "continually reopening the wound of the Vietnam War and causing pain to families of American servicemen. The lies distort the truth of why I went to North Vietnam and they perpetuate the myth that being anti-war means being anti-soldier."
In 2013, during an appearance on "Oprah's Master Class," Fonda previously called the photo an "unforgivable mistake."
"I'm a lightning rod," she told the audience at her Saturday event. "This famous person goes and does something that looks like I'm against the troops, which wasn't true, but it looked that way, and I'm a convenient target. So, I understand."
It would appear that what Fonda is ultimately "haunted by" is that she's seen by many as anti-soldier. According to the Frederick News-Post, she does not regret her time in Vietnam, ultimately calling her trip "an incredible experience."
BEFORE YOU GO
PHOTO GALLERY
Jane Fonda Quotes