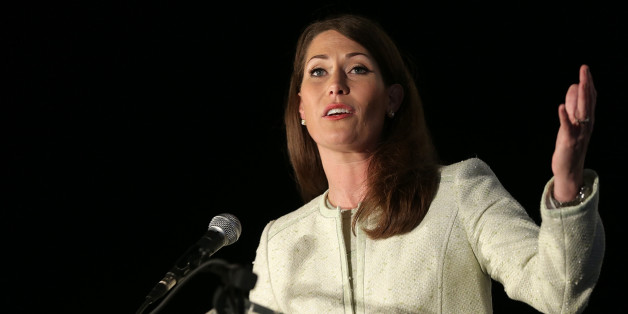 Democrats may not have to say goodbye to 2014 sweetheart Alison Lundergan Grimes just yet.
The Democratic secretary of state for Kentucky, who lost a bid for the U.S. Senate to Senate Majority Leader Mitch McConnell (R-Ky.) in November, has said she will pursue statewide office this year.
Grimes confirmed her plans to the Associated Press after attending the 21st annual Alpha Phi Alpha Unity Breakfast in Lexington, Kentucky, on Monday.
"I don't have to be in D.C. to get some good things done for the people of Kentucky," she told the AP. "We'll do it right here in Kentucky."
Grimes told the AP she has not decided which office she'll pursue, but said she's been encouraged to consider running for governor or attorney general, or to pursue re-election as Kentucky secretary of state. She has until Jan. 27 to file.
Grimes has served as secretary of state since January 2012. If she runs for governor, she'll face Kentucky Attorney General Jack Conway in the Democratic primary. If she pursues Conway's current office, she'll face Andy Beshear, son of Gov. Steve Beshear (D), in the party primary.
BEFORE YOU GO
PHOTO GALLERY
U.S. State Capitol Buildings