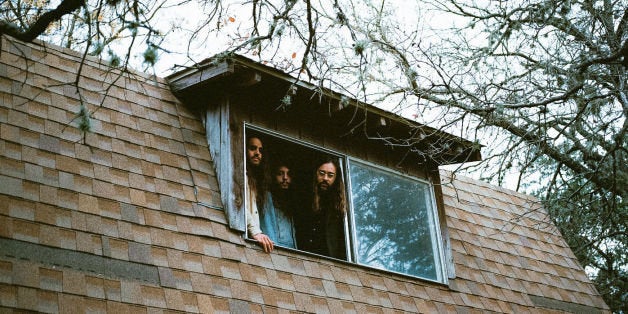 Comprising members Jack O'Brien, Curtis Roush and Joseph Mirasole, as well as Edward "Shreddward" Braillif, "Infinite Cities" kicks off a quick, hi-hat groove before some spacey guitar picks begin echoing overtop. A swirling bridge shows Roush occasionally sliding into dissonance, just nearing resolution before the next line picks up, leading into one final chorus where O'Brien and Roush's harmonies line up the strongest. According to O'Brien, the song is about "quick movement or a quick change as a new form of home," in which one tries "to find a sense of stability or comforting identity within the movement itself."
A listen through the rest of the album reveals a diverse pack of punches. Some wander deeper into the ambient brooding of "Infinite Cities," some bear the lightheaded psychedelics of acts such as Tame Impala and some delve into the bluesy rock similar to the earlier works of The Black Keys, all with a raw, unique edge that cuts through.
"We became really interested in mixing southern aspects of music -- soul, rock, blues, those sort of things -- with a progressive outlook, where we got really into dance music, house music, techno, psychedelic rock," O'Brien said. "We became really interested in mixing all those sounds; something future-looking and also vibe-y and comfortable, but different all together."
But "Space Is Still The Place" is more than just a mélange of southern sounds laced with spices from a more adventurous palate. It is the band's first foray into exploring politics in their music. Falling into the self-assigned label of party-rock, TBLSH's debut, self-titled record was a reaction and safety net for the stresses of O'Brien and Roush's time in graduate school. After touring the album for several years, they came to the conclusion that this wasn't the sound and message they wanted to make a career out of. What resulted is their concept of a "Future South."
"When we started putting the record together, 'Future South' was kind of a phrase or a motif we were thinking about a lot because for us it's simultaneously it's an aesthetic and political thing," Roush said. "The aesthetic side is similar to how Jack explained it. On the political side, there's a lot that's backwards about the South, and very obviously so. The South has always kind of lived at the back end of American history, you know, as things progress around the country, the South is the last to follow along. I guess with our generation -- millennials and general human beings -- we're more fair, we're better educated, we're more dedicated to justice than any of our predecessors, and that this doesn't need to be an inevitable thing anymore. The South can be a place of radical change; a role to play in pushing the political and cultural conversation of the country forward."
A prime example of issues addressed was made very clear to the band through their touring experiences. Operating on a tight budget, they would often spend the night at fan's houses after performances. What they noticed through their conversations with those that welcomed them into their homes was that so many of them had "shitty jobs."
"They're, (a) not making very much, and (b), very few people are doing things that feel any kind of self-actualization by," Roush said. That feeling of good work, you know, where you feel your soul in it and it really utilizes your abilities. We're kind of witnessing first hand the effects of recession and expanding inequality and declining opportunity. There are songs on the record, especially the more rock-leaning, that address some of these frustrations. Like, I just read today that by next year, the richest one percent will have control of 50 percent of the world's wealth, and that kind of keeps going up."
Roush continued: "On the flip side of that, there are the kind of more future-leaning, or dreamier songs on the record that are meant to be more hopeful, more kind of gazing outward: what could be or what ought to be. So there's kind of two strands on the record that look two different directions."
Space also plays a large role in the design of TBLSH's new record. The album's title derives from the film and musical composition "Space Is The Place" by jazz composer (and so much more) Sun Ra. In the film, Ra transports the black community a new planet to be free of their history and oppression.
"Life on the road can be pretty rough, and as a way of sort of escaping into the self, we kind of imagined space as a metaphor for escaping into dreams and dreaming of progress," O'Brien said. "A dream of a new frontier where you go into it and cut free of all history and have all of these kind of chains or claws inside of you that prevent progress in a lot of ways."
Furthering this their theoretical departure into the final frontier, O'Brien, Roush and Mirasole decided to send HuffPost Entertainment a list of their possible blast off songs: the final tunes they would listen to as the departed Earth for forever.

Before The Beat Drops is an artist introduction series dedicated to bringing you the rising acts before they make their break. Our unlimited access to music of all kinds is both amazing and overwhelming. Keeping your playlists fresh, we'll be doing the leg work to help you discover your next favorite artist.
BEFORE YOU GO
PHOTO GALLERY
Artists You Need To Start Listening To In 2015