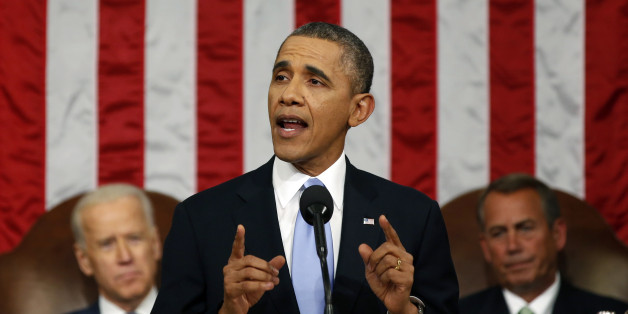 NEW YORK -- President Barack Obama will have lunch Tuesday with several broadcast and cable news anchors in anticipation of the evening's State of the Union address.
The annual lunch, in which the president lays out his policy proposals before influential members of the media covering the address, is off the record. However, Fox News anchor Shepard Smith, an attendee in recent years, has made it a tradition of providing viewers with a detailed rundown of the menu, though not the details of what was discussed, after the meal.
The Huffington Post has confirmed that "CBS Evening News" anchor Scott Pelley, "NBC Nightly News" anchor Brian Williams, "World News Tonight" anchor David Muir, ABC News chief anchor and "Good Morning America" co-host George Stephanopoulos, "PBS NewsHour" co-anchor Judy Woodruff and NPR's "All Things Considered" senior host Robert Siegel will be attending.
CNN declined to comment and several networks did not immediately respond to requests for comment.
A White House spokesman, citing the lunch's off-the-record ground rules, would not provide a list of attendees.
The traditional pre-State of the Union lunch existed before Obama took office. But beyond the annual gathering, Obama has met privately with numerous journalists to explain his administration's policy initiatives or before making a major announcement, such as the decision to expand airstrikes against Islamic State fighters in Syria.
The list of attendees in this post has been updated.