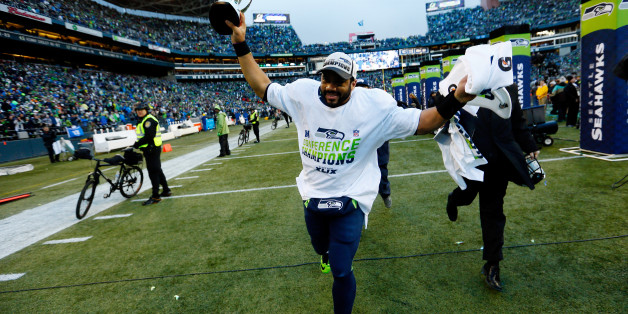 Seattle Seahawks quarterback Russell Wilson is raising eyebrows after saying the four interceptions he threw Sunday were arranged by God to set up the team's dramatic comeback.
With Wilson floundering in perhaps his worst NFL performance, the Seahawks trailed Green Bay 19-7 with about four minutes left in the NFC Championship Game. Seattle eventually won, 28-22, in overtime to advance to the Super Bowl after Wilson completed the game-winning touchdown pass to Jermaine Kearse. Wilson cried after the victory.
From Monday Morning Quarterback:
I found Wilson afterward, and asked him about the four picks, and going from the worst game of his life to the most exhilarating in the span of eight minutes of game time.

"That's God setting it up, to make it so dramatic, so rewarding, so special," he said, alone for a moment in the locker room before heading out for the night. "I've been through a lot in life, and had some ups and downs. It's what's led me to this day."
Some outlets responded.
"Russell Wilson's crying isn't quite as endearing when he is pinning the blame of his failures on God," the Chicago Sun Times' national website wrote.
"Russell Wilson's just out here throwing God under the bus!" Deadspin joked. "If God was actually one of Russell Wilson's teammates, he'd be publicly demanding a trade right now."
NESN was perhaps more understanding: "This might seem outlandish, but there must have been something going on to cause those four interceptions, which were more than half of Wilson's regular-season total of seven. And the Seahawks, who haven't lost since Nov. 16, have occasionally seemed to have some help from upstairs."
Wilson has said he found God at age 14 and that his faith helped him mature.
BEFORE YOU GO
PHOTO GALLERY
Top Religious Athletes