Good evening, America. President Barack Obama gives his State of the Union address Tuesday night. You know what that means: Political reporters and pundits across the country will watch the president's oration carefully and parse the hidden messages contained therein obsessively, while the rest of the country takes the opportunity to catch up with the shows they've missed on Hulu. (May we recommend "Marry Me"? Casey Wilson is a very underrated comedic performer.)
As usual, we'll point out that State of the Union addresses are vastly overrated as a phenomenon. They don't lead to big poll bounces for the speaker and they rarely even foster much in the way of immediate persuasion. The best, sober-minded way to watch a State of the Union address is to take stock in the policy initiatives the president puts forth. Most of them will tend to be policies that are already wildly popular with the public, and the president will be simply seeking to "facilitate change in a favorable environment." In other instances, the president will be signaling to legislators what agenda items he is most interested in negotiating, and how aggressively. (Early indications are that Obama will be talking at length about improving the lot of the middle class. What he proposes to do may include things that a GOP majority legislature won't countenance.)
But since most of you aren't here for a sober-minded experience of any kind, and since we're nothing if not enablers of demented behavior, we can help with that as well, applying all of our knowledge of having to sit through too many of these things.
There are a lot of things that you can bet Obama will talk about. So take a sip if he mentions his free community college proposal or paid family leave reforms. If he mentions something like increasing free broadband access, take a generous pull of your libation. But if he says that he's had it with daylight saving time, or announces that he's going to create "The Beygency" to deal with Mike Huckabee's continuing slander against our Beyonce, finish that drink and move on to another.
The pageantry of this pseudo-event is also ripe for comedy. Watch Obama as he makes his way down the aisle to the dais, sipping every time he shakes the hand of someone you recognize. Take a longer drink every time someone hugs him a little too long, or does something awkward. Watch Vice President Joe Biden and Speaker of the House John Boehner as well -- they'll be in the camera shot as Obama's speaking. By now, you should know when Uncle Joe is behaving himself and when he's acting out, so drink accordingly. Also, Obama will typically say something gracious about the speaker: Take a sip if he successfully solicits a smile; finish that beer if he brings Boehner to tears.
Current events and culture impinge on the proceedings as well. If Obama says, "Je suis Charlie," go ahead and have a drink. If he reads the opening chapter of Thomas Piketty's Capital In The Twenty-First Century in the original french, line up some shots.
Please consult our special State of the Union drinking game guide below, and feel free to tweet @HuffPostComedy your suggestions for additional rules.
As always, if it turns out that North Korean hackers successfully prevent transmission of the State of the Union, grab your liquor and go to a safe and undisclosed location.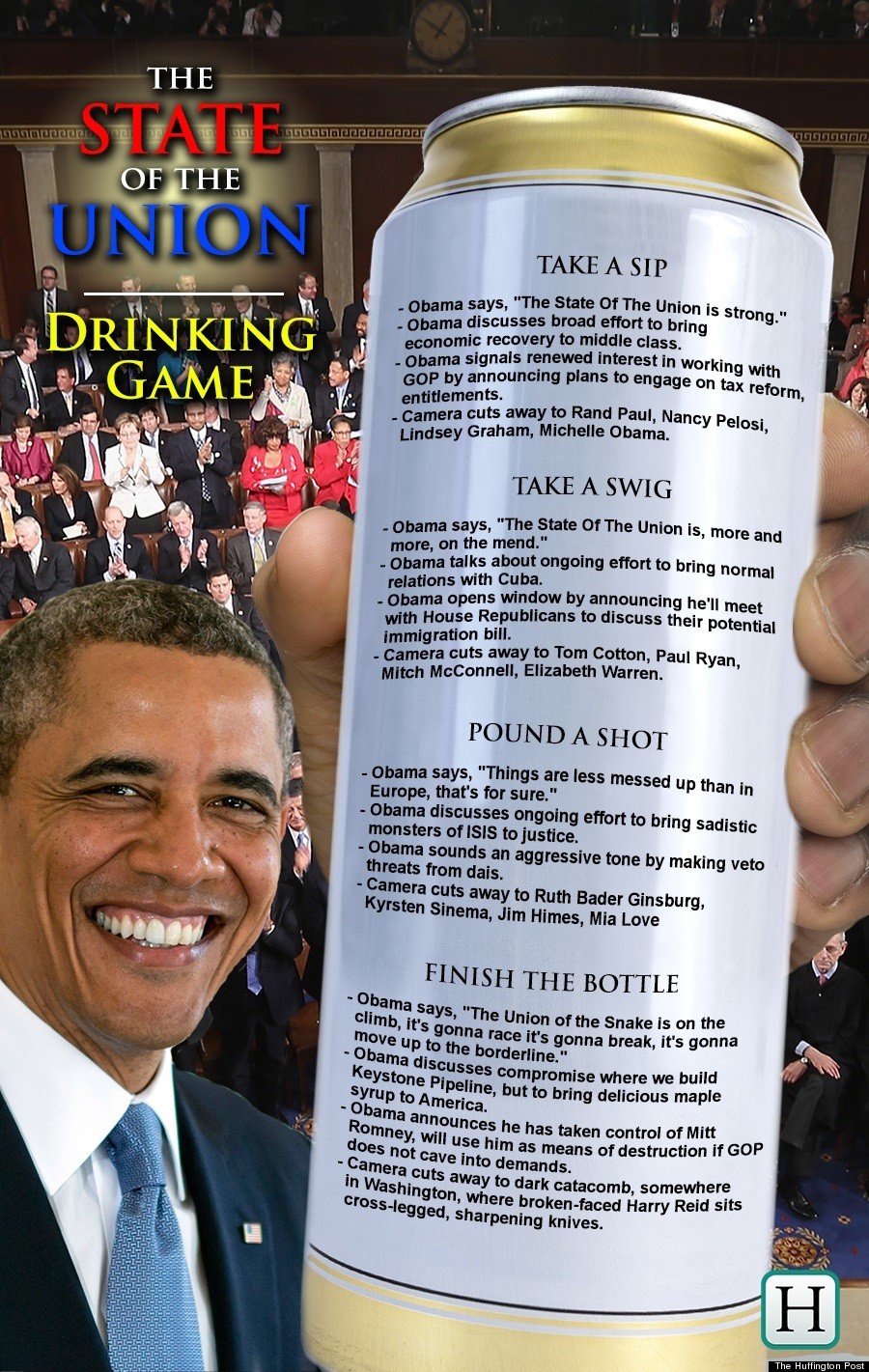 [Huffington Post's State of the Union Drinking Game Chart created by Andy McDonald]
BEFORE YOU GO
01/21/2015 3:05 AM EST
Obama Emphasizes U.S. Security Reliance On Shaky Foreign Partners
HuffPost's Akbar Shahid Ahmed reports:
President Barack Obama used his first State of the Union address after once again ramping up U.S. military involvement in the Middle East to describe his foreign policy as a judicious mix of military force and diplomacy -- and left no doubt he believes positive engagement with the international community is key to what he called "a safer, more prosperous world."

"I believe in a smarter kind of American leadership," Obama said. "We lead best when we combine military power with strong diplomacy; when we leverage our power with coalition building; when we don't let our fears blind us to the opportunities that this new century presents."

The emphasis on diplomacy was nothing new for the Obama administration, but the president's multiple references to U.S. reliance on partners abroad invites scrutiny that may show those partners falling short of U.S. expectations.
01/21/2015 2:17 AM EST
From Nice-ish To Nasty: How 2016 GOP Contenders Responded To The State Of The Union
HuffPost's Christina Wilkie reports:
Likely Republican 2016 presidential candidates on Tuesday seemed to agree that President Barack Obama's State of the Union Address was off base. What they disagreed on was why. Responses issued by possible contenders after the hour-long speech ranged from civil, optimistic messages to angry visions of a world beset by terrorism.

Former Florida Gov. Jeb Bush gave one of the sunnier Republican responses of the night -- sunnier, that is, for a put-down. "It's unfortunate President Obama wants to use the tax code to divide us -– instead of proposing reforms to create economic opportunity for every American," Bush said in a statement. "We can do better."

Mitt Romney, Bush's potential rival for the backing of the GOP establishment in 2016, also was measured in his response, calling the speech "disappointing" and "a missed opportunity to lead."

From there, the tenor of the rhetoric intensified.
01/21/2015 1:37 AM EST
Obama State Of The Union Address Highlights Battle For The Middle Class
HuffPost's Michael McAuliff and Sabrina Siddiqui report:
More than anything, President Barack Obama's State of the Union Address signaled a fresh battle for the hearts and minds of America's beleaguered middle class -- and Republicans weren't having any of it.

Obama mentioned the middle class at least seven times and touted "working" people at least nine as he rolled out proposals to offer new child tax credits, raise the minimum wage, extend paid family leave and make college more affordable. He mentioned "families" 16 times.

But well before Obama's speech was over, House Speaker John Boehner's (R-Ohio) office was firing off responses, declaring that Obama's "regulatory onslaught squeezes the very middle-class families he claims to be trying to help," and that he was threatening to veto what Republicans consider to be jobs bills.
01/21/2015 1:00 AM EST
GOP Mentions Immigration In State of The Union Rebuttal...But Only In Spanish
HuffPost's Elise Foley reports:
Earlier Tuesday, it appeared the GOP's Spanish-language rebuttal to the State of the Union would be exactly the same as the English-language one, just delivered by a Latino congressman instead of a senator who wants to make English the official U.S. language.

But when the speeches were delivered in the evening, there was at least one major difference -- one key to many Spanish-language audiences. Sen. Joni Ernst (R-Iowa), delivering the official Republican rebuttal, did not utter the word "immigration" once. Rep. Carlos Curbelo (R-Fla.) not only mentioned the issue, but said Republicans want to work on it with President Barack Obama.

"We should also work through the appropriate channels to create permanent solutions for our immigration system, modernize legal immigration and strengthen our economy. In the past, the president has expressed support for ideas like these, now we ask him to collaborate with us to get it done," Curbelo said in the address, translated by liberal group American Bridge (and checked by The Huffington Post).
01/21/2015 12:46 AM EST
Jason Chaffetz: Taxing Inheritance Is 'One Of The Most Immoral Things You Can Do'
HuffPost's Ryan Grim reports:
House and Senate Republicans are rejecting President Barack Obama's suggestion to reform tax code that allows heirs to inherit extreme amounts of wealth largely tax-free.

"Let's close the loopholes that lead to inequality by allowing the top 1 percent to avoid paying taxes on their accumulated wealth," Obama said Tuesday night during his annual State of the Union address. "We can use that money to help more families pay for child care and send their kids to college."

A variety of tax strategies exist to shield much of an inheritance from taxation. And that, said Rep. Jason Chaffetz (R-Utah), is as it should be. Chaffetz moved quickly from talking points to genuine anger in responding to the president's proposal. "That's a non-starter. The audacity, that he thinks the government has a right to people's money? He wants to transfer wealth," Chaffetz said. "It's one of the most immoral things you can do, is try to steal somebody's inheritance, to steal it away from their family."
01/21/2015 12:40 AM EST
Dreamers At State Of The Union Hope Obama Continues To Push Forward On Immigration
HuffPost's Elise Foley reports:
The White House and members of Congress often make political statements through their choice of guests for the State of the Union. There is no place that gets more attention than the first lady's box, where the guest list serves as an illustration of the president's priorities for the upcoming year. For the past few years, that list has included Dreamers: Alan Aleman attended as one of the first lady's guests in 2013. In 2014, it was Avila. And this year, 21-year-old Dreamer Ana Zamora was one of Michelle Obama's guests. Other undocumented immigrants, some of them Dreamers, also attended this year, as guests of Senate Minority Leader Harry Reid (D-Nev.) and Reps. Mike Honda (D-Calif.), Mark Takano (D-Calif.) and Tony Cárdenas (D-Calif.).

Even in a speech in which Obama said the word "immigration" only twice -- plus "immigrant" and "immigrants" once each -- the presence of those guests was meant to send a message that Democrats are committed to programs like Deferred Action for Childhood Arrivals, or DACA, which allows Dreamers to remain in the country. House Republicans voted last week to end that policy, along with elements of the measures Obama announced in November, such as protections for parents.
Read the full story here.
01/21/2015 12:04 AM EST
State Of The Union Watchers Give Obama High Marks In Instant Poll
HuffPost's Ariel Levy reports:
Americans who watched President Barack Obama's State of the Union address largely approved, giving him better marks than they did for last year's speech, according to instant polling conducted by CNN.

Positive ratings from State of the Union watchers are the rule, not the exception. CNN found Obama getting high marks in all five annual State of the Union speeches they previously polled (the network didn't conduct a post-State of the Union poll in 2012). Former presidents George W. Bush and Bill Clinton also received largely positive ratings.

Eighty-one percent of viewers had a somewhat positive or very positive opinion of the 2015 State of the Union, according to CNN -- up from 76 percent in 2014, and in line with ratings for Obama's speeches in 2011 and 2013.
01/21/2015 12:01 AM EST
Obama Gives Push To Restoring Voting Rights Act: 'The Right To Vote Is Sacred'
HuffPost's Jennifer Bendery reports:
President Barack Obama pushed Congress Tuesday night to restore a key portion of the 1965 Voting Rights Act, even though Republicans signaled last week they have no intention of doing so.

"We may go at it in campaign season, but surely we can agree that the right to vote is sacred; that it's being denied to too many; and that, on this 50th anniversary of the great march from Selma to Montgomery and the passage of the Voting Rights Act, we can come together, Democrats and Republicans, to make voting easier for every single American," Obama said during his State of the Union address.
01/20/2015 11:17 PM EST
Obama Warns Lawmakers: Stay Away From Iran Talks
HuffPost's Ali Watkins reports:
President Obama warned lawmakers in his State of the Union address on Tuesday against interfering with his administration's nuclear negotiations with Iran, promising to veto any new sanctions legislation that makes it to his desk.

"New sanctions passed by this Congress, at this moment in time, will all but guarantee that diplomacy fails  -- alienating America from its allies and ensuring that Iran starts up its nuclear program again," Obama said. "It doesn't make sense. That is why I will veto any new sanctions bill that threatens to undo this progress."
Read the full story here.
01/20/2015 11:15 PM EST
Howard Fineman: Joni Ernst Didn't Say Much In Her SOTU Response
Howard Fineman joins HuffPost Live to weigh in on Sen. Joni Ernst's Republican rebuttal to the State of the Union. Watch: