What happens when you take away the impossibly long lashes and neon lipstick from a Bratz doll? Well, she looks a lot more like a real person.
Tasmanian artist Sonia Singh decided to give makeunders to Bratz dolls she collected from local shops. She "removed" their makeup, styled their hair and dressed them in clothes made by her mom. The results are dolls that look less like overdone '90s pop stars and more like regular girls.
She explained the project on her Tumblr page, Tree Change Dolls.
These dolls have been rescued and rehabilitated from op-shops and tip shops around Tasmania. These lil fashion dolls have opted for a "tree change", swapping high-maintenance glitz 'n' glamour for down-to-earth style. I hand repaint the dolls faces, mold new shoes, and my Mum sews and knits their clothing.

My sisters and I grew up playing with second-hand dolls and home-made toys in the beautiful Tasmanian natural environment. I love the satisfaction of repairing and reusing discarded items to give them a new lease on life.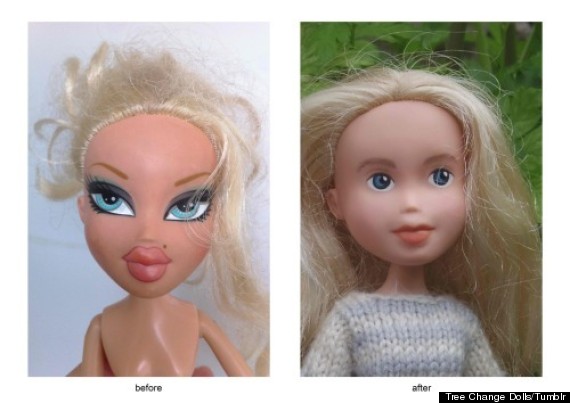 Singh says she plans to start selling the dolls on Etsy. For now, she is telling fans to make a donation to the International Women's Development Agency, an Australian nonprofit that works toward advancing women's rights.
Bratz dolls have long been criticized for promoting a negative image to young girls, and the American Psychological Association includes the toy in a list of examples of over-sexualization in society. The CEO of the doll manufacturer has previously said the dolls aren't sexy.
For more pictures of the makeunders, head over to Tree Change Dolls.
BEFORE YOU GO
PHOTO GALLERY
Dolls Without Makeup By Nickolay Lamm