Martha Stewart has been full of surprises lately. She dares to say what everyone else is thinking about Gwyneth Paltrow, she's admitted that she knows how to roll her own joints and the woman even owns and operates her own personal drone. Also, shockingly, the domestic goddess is seemingly incapable of tweeting a food photo that doesn't resemble barf, which goes against everything she stands for in her perfectly manicured world.
But let's get back to what's not surprising about Martha: Her unbelievably reliable recipes and her ability to know exactly what we need. Let's talk about chocolate chip cookies, for example. Some people prefer puffy, cakey cookies over crisp, crunchy cookies -- and then there are the chewy ones that lie somewhere in between. You could spend a lifetime in search of the perfect recipe for each of these cookie types, or you could just refer to this ridiculously helpful chart from the folks at Martha Stewart Living.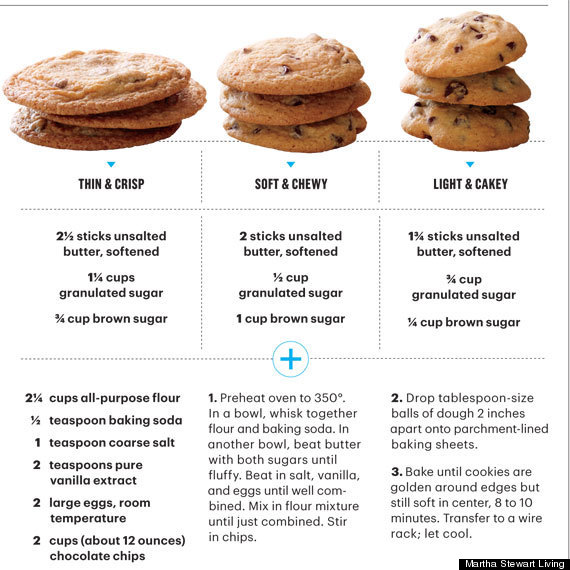 With a few simple substitutions, your own customized chocolate chip cookies are yours to be had. We're printing this one out and clipping it to our fridge.

You can pick up the February issue of Martha Stewart Living on newsstands, or download a copy on your iPad.
Want to read more from HuffPost Taste? Follow us on Twitter, Facebook, Pinterest and Tumblr.
BEFORE YOU GO
PHOTO GALLERY
Chocolate Chip Cookies