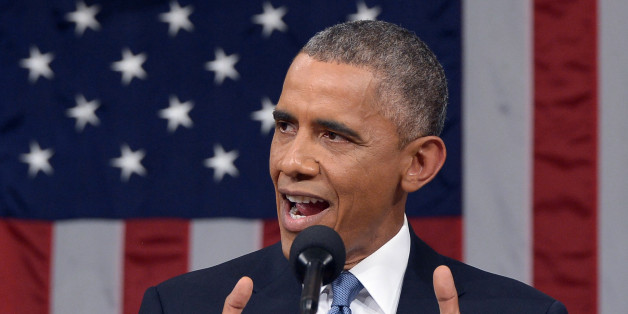 These public high school students are not yet old enough to vote, but they had a lot to say about President Barack Obama's State of the Union address.
Students at Hayfield Secondary School in Alexandria, Virginia, have been asked for the past few years by AP government teachers Ken Halla and Doug Zywiol to tweet their feedback to the president's annual State of the Union address. Hundreds of tweets poured in from high school seniors during Tuesday night's speech, until the hashtag #Hayfieldgovclass was trending.
The teachers told The Huffington Post that the assignment gets students excited about the speech. Students who don't have access to Twitter get alternative homework. This year, the teachers said students seemed especially interested in Obama's idea to make community college free.
"As seniors, they seemed very interested in hearing what he had to say" about community college, Halla said by phone. "There seemed to be kind of a spike in the tweets."
The tweets reveal how teens felt about the president and the nation's pressing issues. Here are some of their comments:
im still ticked off about women getting paid less than men. If anything i feel like that would be the easiest to change #hayfieldgovclass

— Timothy Vales (@NegaTIMity) January 21, 2015
#hayfieldgovclass I hope everyone realizes the reason there's a gender wage gap is because more men choose to be in better paying fields.

— Evan Smoot (@evansmoot) January 21, 2015
Mom: Wow, Biden has a huge forehead!
Dad: It's honestly a fivehead
#HayfieldGovClass

— Kathy Butler (@bathykutler) January 21, 2015
Why can't we all be purple states and find a happy medium? 💜🇺🇸 #HayfieldGovClass

— MacKenzie Bellimam (@KenzieBell15) January 21, 2015
Preach 🙌 women have the choice! Regardless abortion, child custody, body image, etc. #prochoice #hayfieldgovclass

— MacKenzie Bellimam (@KenzieBell15) January 21, 2015
Digging the recurrence of the theme of equality among ALL groups of people. #hayfieldgovclass

— brandon kremer (@HeyyoHomeslice) January 21, 2015
boehner is actually making me uncomfortable he looked like he was about to cry and puke at the same time #hayfieldgovclass

— brandon kremer (@HeyyoHomeslice) January 21, 2015
Boehner is about to lose his mind. Deep breaths my friend, deep breaths, #hayfieldgovclass

— ♠ (@heythereheldana) January 21, 2015
"I'm here to party." #hayfieldgovclass #SOTU2015 #Hawaii pic.twitter.com/dgWh85vhW6

— John Dabeck (@jtdabeck) January 21, 2015
Congress should this, Congress should that, Congress won't pass anything you say sooooo YA. #hayfieldgovclass

— John Dabeck (@jtdabeck) January 21, 2015
Remember that the torture reports stated that incidents of sexual assault occurred at the hand of CIA officials #hayfieldgovclass

— Katie Flowers (@Katie_Ladybug_) January 21, 2015
Think before you believe what the media is telling you! Thanks for bringing that up Obama #hayfieldgovclass

— Katie Flowers (@Katie_Ladybug_) January 21, 2015
Higher education should not be accompanied with crippling debt #hayfieldgovclass

— Buckshot LeFonque (@reese_no_puffs) January 21, 2015
Make college cheaper and I'll like you more #hayfieldgovclass

— James Stearman (@JStearman23) January 21, 2015
The President has accomplished more on Iran, Iraq, Afghanistan, and Cuba in six years than Bush + Clinton combined. #hayfieldgovclass

— catherine (@Cat_Gross) January 21, 2015
Obama has done 98% of what he promised when running for office, why can't so many people see that #hayfieldgovclass

— catherine (@Cat_Gross) January 21, 2015
Some dont like Obama butting in other country's business but i feel like its the job of the president to do exactly that #HayfieldGovClass

— Timothy Vales (@NegaTIMity) January 21, 2015
Aye Obeezy, can you ask Michelle to give us our cookies back from last year? I really miss those joints... #hayfieldgovclass

— Mr. Clutch (@NickLaFlair) January 21, 2015
I really just want my cookies back 😪 #HayfieldGovClass

— Mr. Clutch (@NickLaFlair) January 21, 2015
BEFORE YOU GO
PHOTO GALLERY
Presidents Of Public Colleges That Are Paid More Than The President Of The United States (Data From 2013, Most Recent Year Available)