A lavish ancient tomb in northeastern Greece is a lot more crowded than previously thought.
The three-chamber tomb, which dates back to the 4th Century B.C. and the reign of Alexander the Great, was unearthed in Amphipolis last August. One person's skeletal remains were discovered in the tomb in November.
Now archaeologists excavating the elaborate tomb have found even more human bones that belong to at least five individuals, the Associated Press reported.
The recent discovery includes about 550 bones, a skull, and cremated remains, according to a written statement from the Greek Ministry of Culture.
An analysis of the remains showed that they belonged to a woman in her 60s, a newborn baby, two men between 35 and 45 years of age, and another adult who was cremated and whose age and gender are unknown.
(Story continues below images.)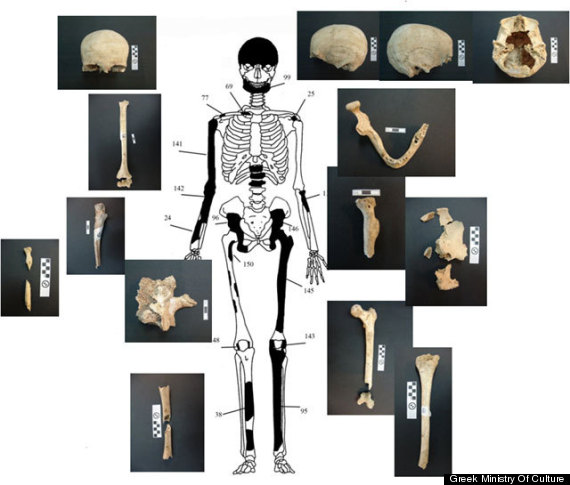 Bone analysis of the woman whose remains were found in the tomb.
Authorities said further testing would be carried out to learn more about the cremated remains and determine if any of the men and women were related.
And the human remains weren't the only new discoveries made. The ministry announced that animal bones, some possibly belonging to horses, were unearthed and also will be further examined.
BEFORE YOU GO