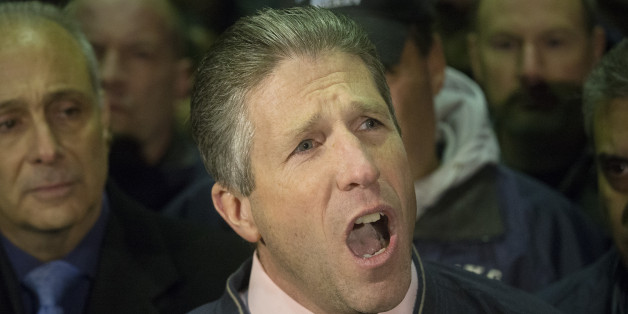 There's dissension in the ranks at the NYC Patrolmen's Benevolent Association, and the dissenters are looking to rout the union's current leadership.
President Patrick Lynch, whose fiery rhetoric against Mayor Bill de Blasio made headlines in the wake of the Eric Garner protests and the murder of two NYPD officers in December, will face a challenger in the upcoming union election.
Brian Fusco, a 27-year NYPD veteran and PBA trustee representing South Brooklyn cops, announced his candidacy for the PBA presidency Tuesday. His coalition, dubbed "Strengthen the Shield," is looking to topple Lynch and his supporters within the union.
While Mayor de Blasio sought to calm the apparent divide between protesters and police after the murder of NYPD officers Rafael Ramos and Wenjian Liu, Lynch criticized both protesters and the Mayor.
"There's blood on many hands tonight," Lynch said after the Dec. 20 shooting. "That blood on the hands starts at City Hall in the Office of the Mayor."
New York voters widely disapproved of those comments, pollsters at Quinnipiac University revealed in a report last week.
"Comments by the PBA's Patrick Lynch that Mayor de Blasio has 'blood on his hands' are condemned by white, black and Hispanic voters alike," Quinnipiac University Poll Assistant Director Maurice Carroll said.
The study found that only 18 percent of New Yorkers surveyed view Lynch positively, while 43 percent said Lynch is a "mostly negative force" in the city. It's unclear if those sentiments are reflected within the 23,000-member PBA.
Fusco's group maintains that while Lynch's blowhard manner may make for great political theater, his leadership has done little to protect cops.
"He grandstands. He's all bark and no bite. He goes out there and screams and yells. He'll get the media. He puts on a good show, but at the end of the day it's the members who are saying, 'Well, what do we do now?'" Fusco said, according to the New York Daily News.
Members of the group openly criticized Lynch at a PBA meeting last week. One cop yelled that police need "more cars, better vests, [and] more manpower," rather than the apology that Lynch has demanded of Mayor de Blasio.
Strengthen the Shield also seeks more effective representation of police interests at the state level, and resolution to a "badly mishandled, five-year contract delay," according to a statement.
Fusco, 47, says that resources are what NYPD officers truly need.
"[Lynch] is not listening to the membership," Fusco said. "He has an arrogance about him that it's his way or no way at all."
The New York Post notes that members of Strengthen the Shield's leadership team have come under investigation in a 2011 Bronx ticket-fixing scandal. Fusco believes his fellow candidates are falsely accused, and blamed Lynch's "failed leadership" for enabling those officers and the union to be targeted.


Like Us On Facebook |

Follow Us On Twitter |

Contact The Author
BEFORE YOU GO
PHOTO GALLERY
Eric Garner Chokehold Case