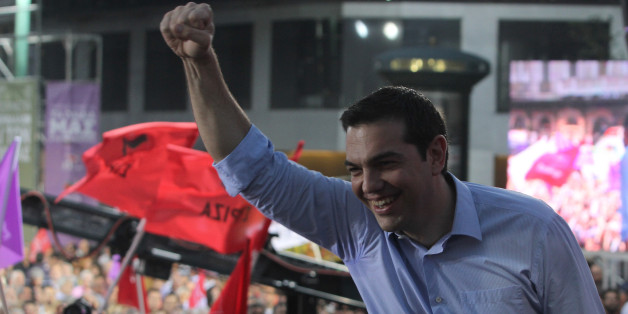 By Deepa Babington
ATHENS, Jan 21 (Reuters) - Greece's Syriza party is set for a comfortable victory in Sunday's general election, according to opinion polls that show the radical leftists consolidating gains in the final days of campaigning.
With just four days left until the vote, all polls show Syriza firmly ahead. The latest poll had Syriza's lead over the ruling conservatives widening to five percentage points, putting it close to the threshold for an outright victory.
Greece's election is being closely watched by financial markets as a victory by the anti-bailout party could trigger a standoff with European Union and IMF lenders and push the country close to bankruptcy or an exit from the euro zone.

In an opinion piece for the Financial Times published on Wednesday, Syriza leader Alexis Tsipras sought to dismiss those fears and appealed for time to change Greece.

"We have a duty to negotiate openly, honestly and as equals with our European partners. There is no sense in each side brandishing its weapons," Tsipras wrote. "We have not been in government; we are a new force that owes no allegiance to the past. We will make the reforms that Greece actually needs."

The Alco poll for the weekly To Pontiki indicated Syriza would get 33.8 percent of the vote, close to the 36-40 percent generally required for a party to secure a parliamentary majority. About 9 percent of voters had yet to decide.
Another survey, by Rass for iefimerida.gr, had Syriza, which has been pledged to renegotiate Greece's debt, widening its opinion poll lead to 4.2 percentage points from 3.8 in a previous survey.
Both polls had the centrist party To Potami (River) in third place, putting it on track to become kingmaker if voters deliver a hung parliament. The far-right Golden Dawn followed in the ALCO survey, while the communist KKE was fourth in the Rass survey.

Both polls showed Prime Minister Antonis Samaras' coalition partner, the center-left PASOK party, trailing with roughly 4 percent of the vote.

Under Greek electoral law, parties must secure 3 percent of the vote to enter the 300-seat parliament. The biggest party automatically gets a 50-seat bonus, and the level required to win outright depends on the share of the vote taken by parties that fail to cross the threshold.

Campaigning is due to wrap up over the next two days, with Tsipras due to hold a major rally in Athens on Thursday night while Samaras holds his final pre-election rally on Friday.

(Editing by Kevin Liffey)