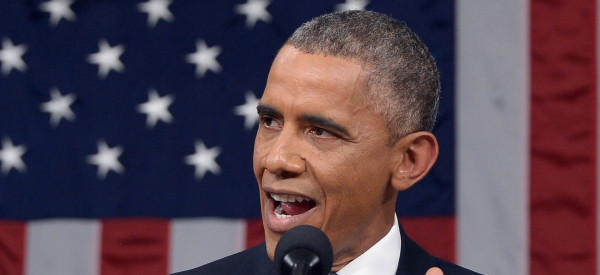 TOP STORIES
To get The Morning Email, HuffPost's daily roundup of the news, in your inbox, sign up here.
OBAMA FOCUSES ON ECONOMY IN PENULTIMATE STATE OF THE UNION ADDRESS "President Obama claimed credit on Tuesday for an improving economy and defiantly told his Republican adversaries in Congress to 'turn the page' by supporting an expensive domestic agenda aimed at improving the fortunes of the middle class. Released from the political constraints of a sagging economy, overseas wars and elections, Mr. Obama declared in his sixth State of the Union address that 'the shadow of crisis has passed,' and he vowed to use his final two years in office fighting for programs that had taken a back seat." Read and watch the President's full remarks. Overall reaction to the speech was positive, while the GOP was unhappy with many of the President's proposals and veto threats. [NYT]

FRANCE CHARGES FOUR FOR AIDING TERRORIST AMEDY COULIBALY The men allegedly bought arms and armor for Amedy Coulibaly, who killed a police officer in the street and took several hostages in a kosher supermarket, killing four of them. [NYT]
AIRASIA PLANE CLIMBED TOO HIGH BEFORE CRASH "An AirAsia plane that crashed last month with 162 people on board was climbing at an abnormally high rate, then plunged and suddenly disappeared from radar, Indonesia's transport minister said Tuesday. Ignasius Jonan told Parliament that radar data showed the Airbus A320 was climbing at about 6,000 feet a minute before it disappeared on Dec. 28." [AP]
PALESTINIAN MAN STABS OVER A DOZEN PEOPLE ON TEL AVIV BUS Four of the victims are seriously injured. [NYT]
SHIITE INSURGENTS TAKE YEMEN'S PRESIDENTIAL PALACE "Shiite insurgents controlled the palace and residence of Yemen's besieged president Wednesday following attacks that threatened to topple a government that has been a key American ally in the fight against al-Qaeda. The assaults by the Houthi rebel faction -- believed to be backed by Iran -- marked a major setback for Yemeni President Abed Rabbo Mansour Hadi." [WaPo]
CALIFORNIA LAWMAKERS TO PRESENT RIGHT-TO-DIE LEGISLATION "California lawmakers are pursuing right-to-die legislation after the highly publicized death of a young woman with brain cancer who moved to Oregon to legally end her life. The proposal would allow doctors to prescribe life-ending medication nearly a decade after similar legislation failed. Terminally ill patients can legally take their lives in five states, including Oregon." [AP]
SEVERAL DISNEYLAND EMPLOYEES CONTRACT MEASLES The ongoing outbreak has sickened at least 41 people in California. [CNN]
DEFLATE-GATE: 11 OF 12 BALLS PATRIOTS USED SUNDAY UNDERINFLATED The NFL has discovered 11 of the 12 game balls provided by the New England Patriots in their win over the Indianapolis Colts Sunday were significantly underinflated. The league is weighing potential consequences for the violation, as the Patriots continue to grow their reputation as the least trustworthy team in football. [ESPN]
WHAT'S BREWING
'THE INTERVIEW' BREAKS $40 MILLION, COMING TO NETFLIX The film has made $40 million in online and video on-demand sales and will be available on Netflix January 24. [Variety]
THE TRUTH BEHIND THE SECRET 'GAME OF THRONES' SPECIAL The much-anticipated documentary will look behind the scenes of the filming of season five in Spain, Northern Ireland and Croatia. [HuffPost]
IN OBVIOUS NEWS, YOUR PASSWORD SHOULD NOT BE 'PASSWORD' Or "123456." [HuffPost]
SUNDANCE PICKS: NEXT YEAR'S OSCAR RACE IN THE MAKING Forget about this race -- we want to know who's up for the golden statue next year. [HuffPost]
PEOPLE TRUST GOOGLE MORE THAN TRADITIONAL NEWS SOURCES And the demise of traditional media continues. [Quartz]
JOURNALING: THE SECRET FOR A REFLECTIVE LIFE "But if you want to enhance those healing powers, you might also consider something as simple as picking up a pen. Studies suggest that expressive writing (as in, the kind that begins "Dear diary...") can offer some very real health benefits -- among them, helping wounds heal faster, reducing stress and fatigue in cancer patients, and easing the symptoms of conditions such as asthma, rheumatoid arthritis and irritable bowel syndrome." [HuffPost]
WHEN YOU'RE AN NHL DENTIST "To work on the teeth of an NHL player is so unlike regular dentistry that it needs a word of its own. Teeth knocked out, gums ripped apart, cheeks sliced open, jaws broken into pieces -- whatever dental injury a person can have, an NHL dentist has probably seen it, and more than once." [Bleacher Report]
ON THE BLOG
IMF'S MANAGING DIRECTOR CHRISTINE LAGARDE ON THE STAKES IN 2015 "As 2015 begins, policymakers around the world are faced with three fundamental choices: to strive for economic growth or accept stagnation; to work to improve stability or risk succumbing to fragility; and to cooperate or go it alone. The stakes could not be higher; 2015 promises to be a make-or-break year for the global community." [HuffPost]
BEFORE YOU GO
~ People LOVED Michelle Obama's power suit last night.
~ Everything coming to Netflix in February, and yes, you only have 37 days until "House of Cards" returns.
~ Strange bedfellows: Barry Bonds is training Alex Rodriguez for his comeback.
~ Comedy Central is roasting Justin Bieber, which just seems too easy.
~ Bratz dolls without makeup show everything that is wrong in the world.
~ You can always use this Leslie Knope wisdom generator.
~ "The Walking Dead" spinoff will be a prequel of sorts.
~ Forget your new year's diet: red velvet oreos are here.
~ We could watch all seven minutes of Jeremy Jordan's rendition of "It's All Coming Back to Me Now" over and over again.
~ Bring on the 90s nostalgia: Nelly, New Kids on the Block, and TLC are touring together.
~ Kim Kardashian settled on a front cover photo for her book of selfies.
~ There's something amiss about Tiger Woods' missing tooth story.
~ This volcanic eruption is creating an island.
~ Chad Michael Murray got married and his wife Sarah Roemer is expecting.
~ Meet the woman who cannot feel fear.
~ Bears' brains during hibernation may hold the key to a cure for Alzheimers.
~ And head shots of hand models.
Send tips/quips/quotes/stories/photos/events/scoops to Lauren Weber at lauren.weber@huffingtonpost.com. Follow us on Twitter @LaurenWeberHP. And like what you're reading? Sign up here to get The Morning Email delivered to you.