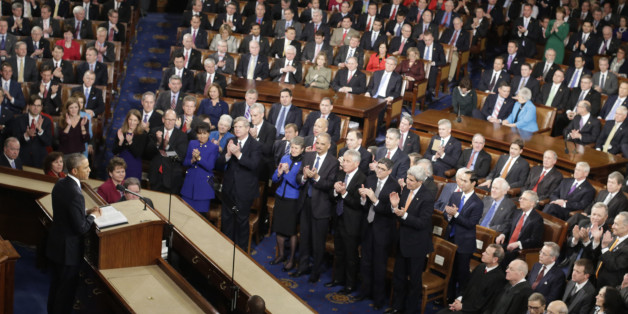 Democrats want compromise more than Republicans. Independents are most likely to up their rating of President Obama in an improving economy. And Americans are less tired of Hillary Clinton than Mitt Romney. This is HuffPollster for Thursday, January 22, 2015.
DEMOCRATS MORE LIKELY TO WANT COMPROMISE - Ned Resnikoff: "Democratic Party supporters show a greater desire for political compromise than Republicans, but only a slight majority of Americans as a whole say political intransigence is the main cause of congressional dysfunction, a new Al Jazeera America/Monmouth University survey suggests. When asked by pollsters who causes more problems in the federal government — 'elected officials who are not willing to stand up for their principles or elected officials who are not willing to compromise' — 71 percent of self-identifying Democrats blamed officials who are not willing to compromise, whereas just 40 percent of Republicans agreed. Nearly half of Republican respondents, 49 percent, said politicians cause trouble by not standing up for their principles, compared to 20 percent of Democrats. Overall, the survey found that 54 percent of all Americans think the bigger problem is lack of compromise." [Al Jazeera America]
OBAMA'S INCREASED RATINGS ARE LARGELY THANKS TO INDEPENDENTS - Philip Bump: "Earlier this month, we looked at the narrow range in which Obama's approval has hovered since 2009. That's largely because Republicans strongly oppose the president and Democrats mostly approve -- meaning that shifts are a function of independent voters changing their minds. You can see that in this graph, which shows how approval of the economy and of the president have shifted over time….Look at the yellow line. That's independents. And over the last two Post/ABC polls (since last September), they've grown much more approving of the economy and Obama. Notice how much wider the bar is for independents than for Democrats -- or, especially, Republicans. That's why the 'all voters' bar isn't very wide, meaning there's only been a small uptick in overall approval: Independents make up less of the population. But the movement among that group has clearly been correlated to increased economic satisfaction....[T]he layer of politics that has kept approval of Obama constrained for years also means that the benefits of an improving economy are themselves likely dampened. By now, this is what we've come to expect." [WashPost]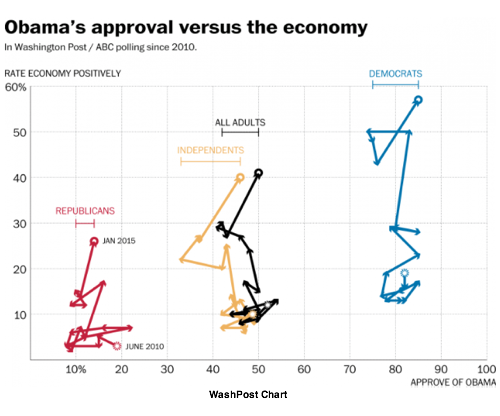 CLINTON LEADS POSSIBLE RIVALS BY DOUBLE DIGITS - Anne Gearan and Peyton M. Craighill: "Hillary Rodham Clinton holds double-digit leads over potential Republican challengers Jeb Bush and Mitt Romney as the likely Democratic presidential candidate moves closer to entering the race, a new Washington Post-ABC News poll finds. Although Clinton, Bush and Romney are all longtime politicians and members of political dynasties, registered voters are less likely to count that familiarity against Clinton. That is a good sign for Clinton, a failed 2008 presidential candidate and the focus of Republican criticism that her time has come and gone. Clinton's potential to make history as the first female U.S. president makes little difference to most voters and is a net positive for others." [WashPost]
SATISFACTION WITH ACCEPTANCE OF GAY PEOPLE PLATEAUS - Justin McCarthy: "Against the backdrop of the Supreme Court's recent decision to accept four cases involving whether states can constitutionally prohibit same-sex marriages, a slight majority of Americans (53%) say they are satisfied with the acceptance of gays and lesbians in the U.S. This level is the same as last year but remains higher than those Gallup has measured over the past decade….In a follow-up question that probed Americans who are dissatisfied with the current acceptance of gays for their position, 16% of Americans indicate they want to see more acceptance while 14% want less. Another 10% are dissatisfied, but don't have a preference for whether there should be more or less acceptance….The general trend suggests that over time, fewer Americans are dissatisfied because they want less tolerance, and more classify themselves as satisfied. The percentage who are dissatisfied because they want more tolerance has remained fairly stable. This may indicate a broad pattern by which Americans who previously wanted less tolerance of gays and lesbians have become more likely to accept the situation as it is today." [Gallup]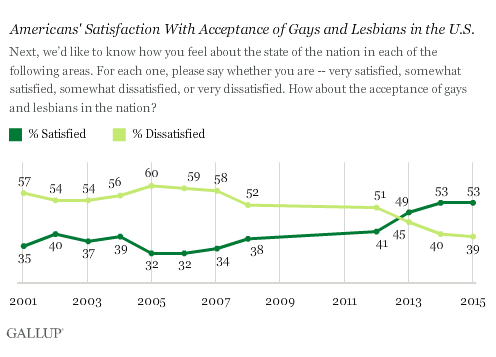 HUFFPOLLSTER VIA EMAIL! - You can receive this daily update every weekday morning via email! Just click here, enter your email address, and click "sign up." That's all there is to it (and you can unsubscribe anytime).
THURSDAY'S 'OUTLIERS' - Links to the best of news at the intersection of polling, politics and political data:
-Chris Christie's rating remains below 50 percent in New Jersey. [Quinnipiac]
-Aaron Blake argues there's room for a GOP populist. [WashPost]
-A GOP report tells female Republican candidates to stop saying they like to compromise. [ABC]
-The State of the Union (SOTU) address earns record low ratings. [Nielsen]
-Greg Sargent sits in on the Democracy Corps (D) online SOTU dial groups. [WashPost]
-Allison McCann computes the success rate for SOTU proposals by president back to Lyndon Johnson. [538]
-Github visualizes State of The Union address minute by minute on Twitter [Github]
-SOTU tweeting by members of Congress was heaviest at for Republicans and Democrats at 9:35. [NYTimes]
-Facebook State of the Union chatter described John Boehner in...colorful terms. [Buzzfeed]
-AAPOR's New England chapter to hold a panel on fabrication in overseas polling. [NEAAPOR]
-26 percent of Americans say that God plays a role in determining which team wins a sporting event. [PRRI]
Janie Velencia contributed reporting.
BEFORE YOU GO
PHOTO GALLERY
Elizabeth Warren