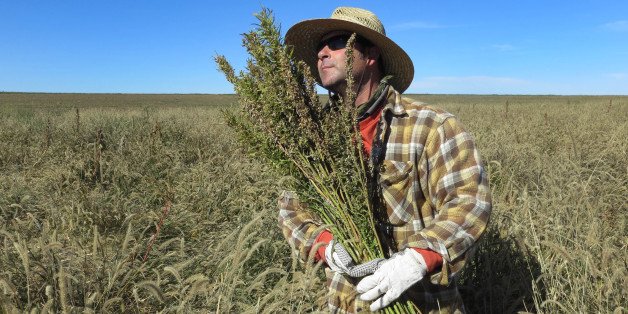 A bipartisan group of lawmakers introduced a bill in the House on Wednesday that aims to put an end to the federal ban on hemp production in the United States.
The Industrial Hemp Farming Act would amend the Controlled Substances Act to exclude industrial hemp from the definition of marijuana and would allow for American farmers in any state to grow the crop.
"The federal ban on hemp has been a waste of taxpayer dollars that ignores science, suppresses innovation, and subverts the will of states that have chosen to incorporate this versatile crop into their economies," Rep. Jared Polis (D-Colo.), a co-sponsor of the bill, said in a statement. "I am hopeful that Congress will build on last year's progress on hemp research and pilot programs by passing the Industrial Hemp Farming Act to allow this historical American crop to once again thrive on our farmlands."
The introduction of the bill was led by Polis as well as Reps. Thomas Massie (R-Ky.), Earl Blumenauer (D-Ore.), Kurt Schrader (D-Ore.) and Dana Rohrabacher (R-Calif.), all vocal supporters of hemp policy reform.
Ironically, the U.S. is the world's largest consumer of hemp products, but is the only major industrialized country that outlaws domestic hemp production.
Hemp comes from Cannabis sativa, the same plant species as marijuana. However, hemp contains little to no THC, the psychoactive ingredient in marijuana associated with the "high" sensation.
The House bill as well as other recent legislation reforming hemp policy represent a sharp departure from a long-standing ban on hemp under the federal Controlled Substances Act, which doesn't make a distinction between marijuana (the drug) and hemp (the plant). Just last year, President Barack Obama signed the farm bill, which included another measure introduced by Polis that legalized limited industrial hemp production for research purposes by colleges and universities if permitted by state law. To date, 20 states have removed barriers to industrial hemp production.
Then in December, under the $1.1 trillion federal spending bill, industrial hemp also received new protections from the Drug Enforcement Administration. Introduced by Massie, the omnibus hemp provision blocks the DEA from using funds to go after industrial hemp research programs that have been made legal in a state.
Hemp has a long history in America and has encompassed a wide range of products, including paper, oils, cosmetics and textiles. American industrial hemp production peaked in 1943, with more than 150 million pounds from 146,200 harvested acres. But production dropped to zero in the late 1950s as a result of "anti-drug sentiment and competition from synthetic fibers," according to The Associated Press.
Sens. Ron Wyden (D-Ore.), Jeff Merkley (D-Ore.), Rand Paul (R-Ky.) and Mitch McConnell (R-Ky.) introduced a Senate companion to the Industrial Hemp Farming Act earlier this month.
BEFORE YOU GO
PHOTO GALLERY
Politicians On Pot