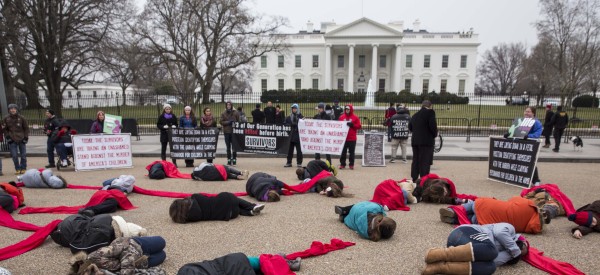 TOP STORIES
To get The Morning Email, HuffPost's daily roundup of the news, in your inbox, sign up here.
GOP WOMEN KILL BILL BANNING ABORTIONS AFTER 20 WEEKS "House Republican leaders abruptly dropped plans late Wednesday to vote on an anti-abortion bill amid a revolt by female GOP lawmakers concerned that the legislation's restrictive language would once again spoil the party's chances of broadening its appeal to women and younger voters." The bill was to be voted on today to coincide with the anniversary of the Roe v. Wade decision and the annual March to Life in Washington. [WaPo]

DOJ EXPECTED TO DROP CHARGES AGAINST DARREN WILSON "Justice Department lawyers will recommend that no civil rights charges be brought against the police officer who fatally shot an unarmed teenager in Ferguson, Mo., after an F.B.I. investigation found no evidence to support charges, law enforcement officials said Wednesday." [NYT]
MADDEN: LOOK TO BRADY IN DEFLATEGATE Legendary coach John Madden said yesterday that the balls would never be deflated without a quarterback's consent, placing the blame for this NFL scandal at Tom Brady's feet. Distrust of the Patriots has reached an all-time high, with the vast majority of the country calling the team cheaters. Thus far, the Patriots' office has remained quiet on the scandal. [MSN]
NY ASSEMBLY SPEAKER TO BE CHARGED WITH CORRUPTION New York State Assembly Speaker Sheldon Silver allegedly had been taking payments from a law firm looking to reduce New York City real estate taxes. [NYT]
EUROPEAN CENTRAL BANK MEETING EXPECTED TO JUMP START EUROPE'S ECONOMY "European markets were steady in early trading Thursday, poised to react to the outcome of what many have described as a historic European Central Bank monetary policy meeting that is expected to deliver a bond-buying program to rekindle the region's economy ... Markets anticipate the central bank will announce a broad-based asset purchasing program, and those expectations have in recent days driven stock indexes to multiyear highs, government bond yields to record lows and the euro to a more than 11-year low against the dollar." [WSJ]
NEWTOWN TO RAZE HOME OF SHOOTER ADAM LANZA The local bank had bought the house and turned it over to the city council to decide what to do with the property. [WaPo]
IRAN-ARGENTINA DEAL UNMASKED "Intercepted conversations between representatives of the Iranian and Argentine governments point to a long pattern of secret negotiations to reach a deal in which Argentina would receive oil in exchange for shielding Iranian officials from charges that they orchestrated the bombing of a Jewish community center in 1994." [NYT]
NOT A MAGICAL WEEK FOR DISNEY First the ongoing Measles outbreak, now the announcement of two deaths at theme parks immediately following Disney rides. [HuffPost]
CONGRESS, WHITE HOUSE CLASH OVER IRAN Despite President Obama's veto threats, congressional leaders pressed on with proposed sanctions for Iran, and House Speaker John Boehner invited Israeli Prime Minister Benjamin Netanyahu to speak to Congress without consulting the White House. [WSJ]
WHAT'S BREWING
WORLD'S MOST EXPENSIVE COUNTRIES While your wallet may seem light, turns out living in Switzerland and Norway is much, much worse. [HuffPost]
GOOGLE TO SELL WIRELESS SERVICE In a win for consumers, the move is expected to force wireless prices down and improve internet speeds. [WSJ]
NETFLIX WANTS 20 SCRIPTED SHOWS A YEAR Take that, Amazon. [Variety]
TURNS OUT LEONARDO DICAPRIO JUST LOOKED THAT SCARY FOR A PART Where he plays a grizzled fur trapper who gets mauled in the woods -- that hobo, bearded, beaten down look makes so much more sense now. [Entertainment Weekly]
EVERYTHING ABOUT WINDOWS 10 Look out for desktop and PowerPoints on your phone, the death of Internet Explorer, and some crazy holographic glasses. [The Verge]
NYT MAGAZINE: THE MEGYN KELLY MOMENT "The Megyn moment has upended the popular notion of how a Fox News star is supposed to behave, and led to the spectacle of a Fox anchor winning praise from the very elites whose disdain Fox has always welcomed. In the process, Kelly's program has not just given America's top-rated news channel its biggest new hit in 13 years; it has demonstrated an appeal to the younger and (slightly) more ideologically diverse demographic Fox needs as it seeks to claim even more territory on the American journo-political landscape." [NYT]
THAT NIGHTCAP IS KEEPING YOU UP We know, we know -- it's called a nightcap! It lies. [HuffPost]
ON THE BLOG
ANNE-MARIE SLAUGHTER: CREATING A CARE ECONOMY "The on-demand economy must become a care economy in one other crucial way. We will have to care enough about all platform workers to ensure that they can earn a living wage, have access to good healthcare and education and be able to provide for their futures." [HuffPost]
BEFORE YOU GO
~ Draco Malfoy Tom Felton went on Pottermore and got sorted into Gryffindor instead of Slytherin. Something's wrong with their sorting hat over there.
~ Kate Hudson is none too pleased after her brother Oliver posted a photo of his bare behind on Instagram.
~ Lauren Graham was just as unhappy as you were when "Gilmore Girls" was unexpectedly canceled.
~ People are pretty excited about Target's plus-sized line.
~ A teen's guide at how to succeed at grammin' (also known as Instagram).
~ Struggles as a Netflix addict.
~ Hillary Clinton can do quite the Vladimir Putin impersonation.
~ Note to self: if you break King Tut's funeral mask and try to glue the beard back onto it, someone will find out.
~ That cup of joe is cutting your melanoma risk.
~ Zooey Deschanel is engaged!
~ Thousands of Air Force declassified documents on UFO sightings are now available online.
~ Anderson Cooper is getting his own game show special for President's Day.
~ And that manly, earth-rumbling truck engine revving noise? It's faked by car makers to make owners feel more macho.
Send tips/quips/quotes/stories/photos/events/scoops to Lauren Weber at lauren.weber@huffingtonpost.com. Follow us on Twitter @LaurenWeberHP. And like what you're reading? Sign up here to get The Morning Email delivered to you.