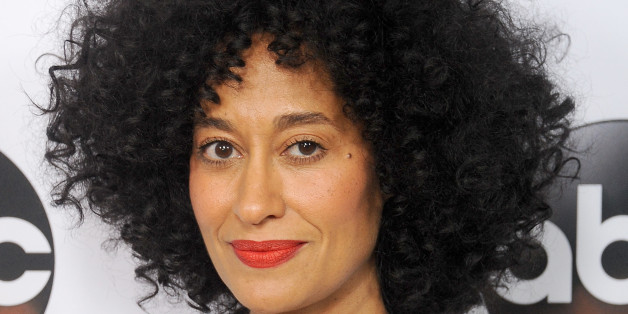 We're huge Tracee Ellis Ross fans around these parts. The "Black-ish" actress is talented, stylish, and was birthed by Diana Ross. Need we say more?
Furthermore, the 42-year-old star is also a well of amazing knowledge and comic relief. So when she speaks, we listen -- and we often let out an resounding "Amen!" after each message. Like the time she told us to stop wanting her hair and start loving our own. Or when she waxed poetic about the awesomeness of our bodies. And let's not forget that this chick (aka #TMurda) can actually rap.
Well, we're saying "amen" once again thanks to a recent chat that Ross had with Jenn Wortham of The New York Times. In the short Q&A, Ross talks about her alter egos, her hate of shapewear, her hair and, of course, being Diana Ross' daughter.
Here are a few highlights -- and make sure to head over to NYT.com for the full interview.
On styling her natural hair for "Black-ish:"
I play a doctor, so my hair has to be back when I'm in scrubs. I wouldn't be at the hospital with my natural big hair out, so I usually have a bun. They try to schedule a lot of those scenes in the same day, so we don't have to go from having my hair out to having it in. You can't go from a bun to out and expect to look gorgeous.
On refusing to adapt to Hollywood's standard of beauty:
I just really strongly promote pushing against this culture of perfection. I mean, I'm sorry, for me, Spanx don't feel good. I've tried one of those waist-trainer things on — that hurt like the bejesus. I could barely get it closed, and I bought the size bigger than they said I should buy. I mean, this [expletive] hurt. I couldn't wear it for longer than 10 minutes. People are sleeping in them!
On her alter egos:
One has taken on a life of its own, Caliope Champignon, who is French. She calls herself a "style architect" — she is not a stylist. She is a very extravagant dresser, and she's a compulsive liar, but she wouldn't tell you that. I went to New York Fashion Week as her, not telling anybody, with a film crew. It was hilarious. And a couple of pictures of her did surface online.
On being Diana Ross' daughter:
Well, my mom was very glamorous, but that was her work world. Our home was filled with beautiful things. My mom had beautiful clothes; my mom is elegant; my mom is glamorous. But my mom is also really real, and I grew up with a mother who had babies crawling on her head and spitting up on her when she was wearing gorgeous, expensive things, and it was never an issue.
BEFORE YOU GO
PHOTO GALLERY
Diana Ross Style Evolution