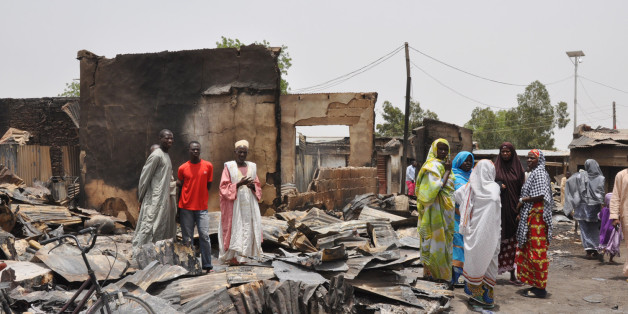 Every week, we bring you one overlooked aspect of the stories that made news in recent days. You noticed the media forgot all about another story's basic facts? Tweet @TheWorldPost or let us know on our Facebook page.
A ruthless campaign of violence by the Islamist extremists of Boko Haram has devastated Nigeria's northeast. The group's five-year insurgency has taken a terrifying toll on an impoverished region where many already feel politically marginalized.

The U.N. Security Council warned on Tuesday that escalating Boko Haram attacks could destabilize the whole region and may amount to crimes against humanity. The council's rare statement came after Boko Haram's recent massacre in the town of Baga, reportedly the group's deadliest yet, and as violence increasingly spills over into neighboring countries.
"The human fallout of the crisis has been underreported, including the suffering of displaced people and the plight of women," Nnamdi Obasi, senior Nigeria analyst for the International Crisis Group, told The WorldPost. He described life in northeast Nigeria as "hellish."
These five facts show just how bad the situation has become:
Over 10,000 people were killed last year
More than 10,000 people were killed in violence connected to Boko Haram in 2014, according to the Council on Foreign Relations' widely respected Nigeria Security Tracker, which uses Nigerian and international media reports to document the effects of the insurgency.
Many of these victims were massacred during brutal raids by the militants on communities in Nigeria's rural northeast. Hundreds of others were killed in car bomb attacks in cities in the country's central regions.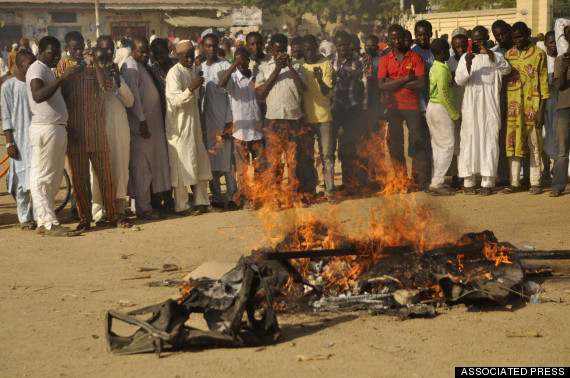 People gather at the site of a bombing in Kano, Nigeria, Nov. 28, 2014. (AP Photo/Muhammed Giginyu, File)
More than 1 million people have fled
The International Organization of Migration said Tuesday that nearly 1 million people in Nigeria have been displaced by Boko Haram's insurgency. Of these refugees, 912,000 have been displaced within the country.
Other organizations have put the number even higher. The European Union's commissioner for humanitarian aid, Christos Stylianides, said in December that a total of 1.6 million Nigerians had been displaced by Boko Haram's violence. According to the International Rescue Committee, 160,000 Nigerians fled to neighboring Niger in 2014.
The flood of refugees has strained Nigerian cities as well as neighboring countries. Since the Baga massacre in early January, roughly 13,000 refugees turned up in western Chad alone, the U.N. Refugee Agency said last week. The agency reported finding over 100 unaccompanied children who had been separated from their families.
A 3 yr/old unaccompanied child & man who does not know where his family is - all fled #Baga to #Niger. pic.twitter.com/XeaQbiiykR

— Matias Meier (@meier_matias) January 13, 2015
Many Nigerians are taking shelter in dire conditions, such as the thousands who were stranded -- starving and dehydrated -- on uninhabited islands in Lake Chad after Baga.
Hundreds have been kidnapped
Since Boko Haram abducted almost 300 schoolgirls from Chibok in April 2014, prompting global outcry, hundreds more people have been kidnapped by the group. While the exact number of men, women and children captured during militant raids is difficult to determine given problems accessing information from the isolated northeast, a Reuters report from December said the kidnappings increased in frequency during 2014. Survivors of the Baga massacre told Amnesty International that around 300 women and girls were captured from the town, although the militants later released older women and children.
Boko Haram fighters have also forced abducted men and boys to join their ranks. Witnesses told Human Rights Watch that the group has recruited boys as young as 12 to be child soldiers.
Meanwhile, women and girls have reportedly been sold into sex slavery. In November 2014, a Boko Haram video claimed that the Chibok girls had been "married off" to the group's fighters.
In an additional horrifying development, earlier this month three young women, one apparently just 10 years old, carried out suicide bombings in northeast Nigeria. Experts told NBC News that the group appears to be forcing kidnapped children to carry out suicide attacks.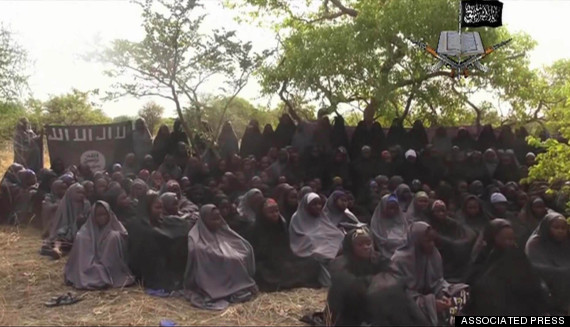 A Boko Haram video claiming to show the kidnapped Chibok girls, May 12, 2014. (AP Photo/File)
It controls territory the size of Belgium
The militant group has captured towns across northeast Nigeria, and says it wants to resurrect an Islamic state, or caliphate, in areas under its control.
While the battle lines are constantly shifting, Boko Haram now appears to control of a huge swath of the country. the group holds holds 14 of the 27 local government areas in Borno state, including all the international border crossings, as well as territory in neighboring Adamawa and Yobe states. Reuters estimates that the militants control 30,000 square km of land, a territory roughly the size of Belgium.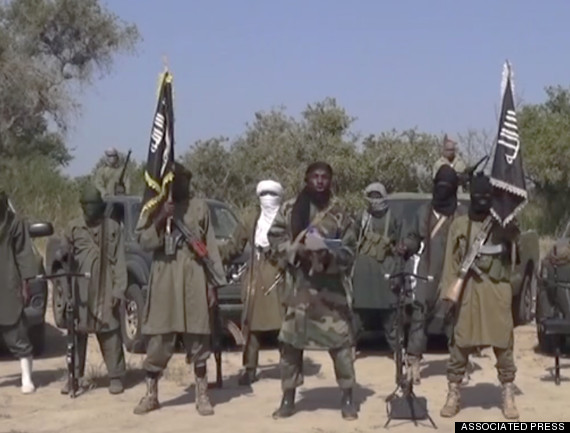 A Boko Haram video purportedly showing the group's leader, Oct. 31, 2014. (AP Photo)
3 million people face a food crisis
Northeast Nigeria was afflicted by drought and desertification even before Boko Haram's attacks laid waste to the region's agriculture and worsened the existing food shortages. Militants often seize livestock and food supplies, and markets and farms have been shut down amid the violence. In some areas, there has been no planting or harvest for three years. Three million people will not be able to meet their basic food needs by July 2015 without a humanitarian aid effort in the region, USAID's Famine Early Warning Systems Network warned this month.
Meanwhile, people living in areas under Boko Haram's control are starving. Though the militants claim to be establishing a state, they plunder towns without establishing any state structures. Residents of one town that was recaptured from Boko Haram last year were found to be malnourished and some were unable to speak, a Red Cross official told Reuters.
Even those who manage to flee Boko Haram are going hungry. For instance, UNICEF warned on Tuesday of alarming rates of malnutrition among Nigerian children in a Cameroon refugee camp. "Children are suffering the dire consequences of the conflict in Nigeria, losing their homes, missing out on education and risking their lives," UNICEF's Christophe Boulierac told reporters.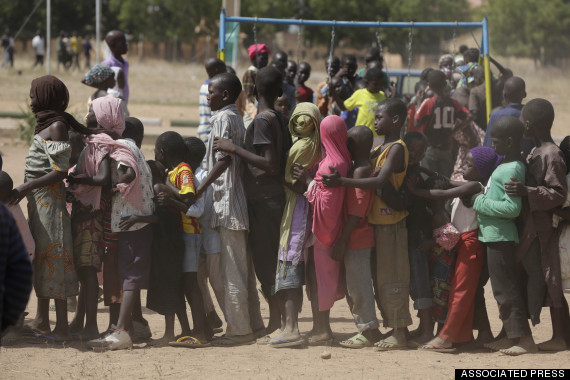 Children displaced by Boko Haram attacks line up in an internal displacement camp in Yola, Nigeria, Nov. 27, 2014. (AP Photo/Sunday Alamba)