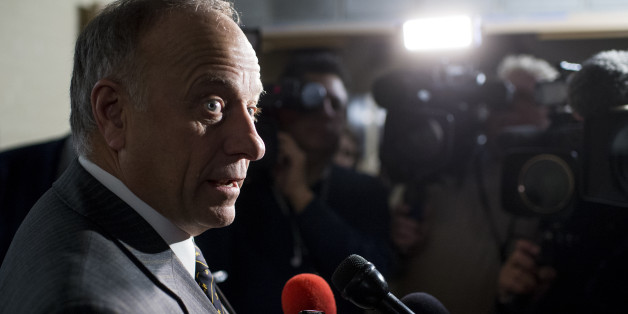 DES MOINES, Iowa -- Rep. Steve King (R-Iowa) said Friday that he was being "kind and gentle" when he referred to Michelle Obama's guest at the State of the Union address, a 21-year-old undocumented immigrant, as "a deportable."
King, known for outlandish statements against immigration reform, said he borrowed the language from a U.S. federal statute, 8 U.S. Code § 1227, which stipulates the "classes of deportable aliens" who may be removed from the country by the attorney general. King argued that he used that language because pro-immigration activists have "conflated the term illegal immigrant with the term immigrant."
"I decided I'm going to soften my language a little bit, and I did, and they're still offended," King said in an interview with WHO, an Iowa radio station.
Democrats sought to tie the remark, which the tea party congressman tweeted on Tuesday night, to several potential 2016 Republican presidential contenders who are scheduled to address a gathering of social conservatives in Des Moines on Saturday.
The Iowa Freedom Summit, hosted annually by King, marks an unofficial start to the GOP primary season. New Jersey Gov. Chris Christie, Wisconsin Gov. Scott Walker, former Texas Gov. Rick Perry, former Arkansas Gov. Mike Huckabee, Sen. Ted Cruz, former Pennsylvania Sen. Rick Santorum, and retired neurosurgeon Ben Carson are slated to attend.
In his interview on Friday, King brushed off critics who said that he was being insensitive to Dreamers, or young undocumented immigrants who came to the U.S. as children.
"They try to figure out what is it that they can hyperventilate about," King said. "They want to live in a perpetual state of outrage. They're constantly scanning something they can be outraged against."
BEFORE YOU GO
PHOTO GALLERY
11 Ways Immigration Reform Helps The Economy