The days of taking Fireball shots may be over.
For those of you who are able to stomach that cinnamon-y goodness, there's another bourbon on the block that's begging to get you pouring. While we've known about Wild Turkey's Original American Honey, their American Honey Sting, which came out late last year, is worth the fresh buzz.
The formula has a number of things to be excited about: it's 71 proof and it allegedly has some ghost pepper in it. What exactly is "ghost pepper," you ask? Oh, it's just one of the hottest things you can ever eat. People have gone to great lengths to prove they can take its heat.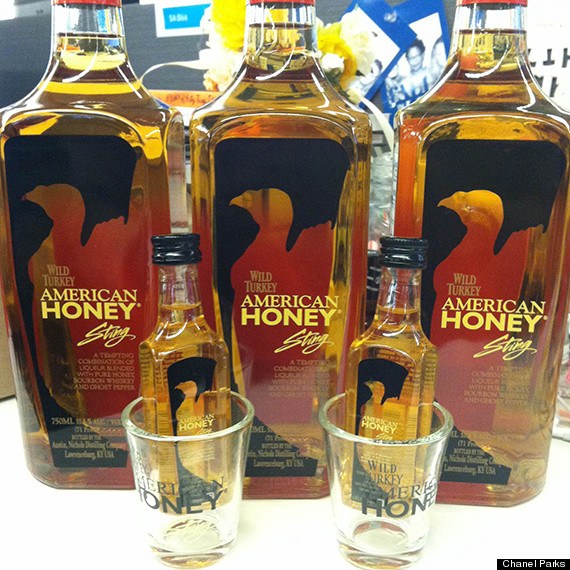 So, when a few bottles of American Honey Sting arrived at our desks, some were a little scared to try it. The sounds of a super spicy and super sweet drink were a bit overwhelming.
After chilling the bourbon for about an hour and half, some sipped and some went all in with a shot. Either way, the initial reaction was very similar. It wasn't hot, but it was refreshingly smooth for a bourbon. And there was one thing we kept hearing...
"It's better than the original honey whiskey and better than Fireball -- it's a fancy Fireball."
"I love it! It's like Fireball but more authentic. It has cinnamon and it's not syrupy or thick like Fireball."
"Definitely good enough to drink without a mixer. It's better than Fireball."
Okay, so we get it, American Honey Sting: 1, Fireball: 0. But what about the fear that there's extremely hot pepper in the mix!?
"It's biting, but in a good way. Maybe that's the pepper talking."
"It's not really that hot, maybe it has a hint of pepper. But it's really good."
"It's really sweet and not that hot, but it has a slow burn. Fireball's hotter."
There you have it, American Honey Sting has got a bit of fire, yet still a sweet companion to the original version. Perhaps it should make its debut at your Super Bowl party?
Wild Turkey American Honey Sting is in stores now for a limited time only.
If you're not into whiskey, here are some other options for you:
Follow HuffPost's board Cocktails For Happy Hour on Pinterest.
Want to read more from HuffPost Taste? Follow us on Twitter, Facebook, Pinterest and Tumblr.

BEFORE YOU GO
PHOTO GALLERY
6 Simple Super Bowl Recipes