Jennifer Aniston has been a long time supporter of St. Jude Children's Research Hospital. "Every year when we film the PSAs I always say that it's the hardest day of my life, and the greatest day of my life," Jennifer says, "Because you meet these joyful children who don't even really have an idea of what's going on, and you can't even understand the resilience of these little people." One of Jennifer's favorite visits to St. Jude Children's Research Hospital was with two sisters, one of which couldn't pronounce her R's. When she went to show Jennifer where her "bump" was, she turned and asked Jen, "are bumps cancer?" The little girl wrote to St. Jude after she and Jen spent time together, saying how much she enjoyed meeting her.
View the slideshow below for 10 reasons why I love Jennifer Aniston!
PHOTO GALLERY
10 Reasons Why I Love Jennifer Aniston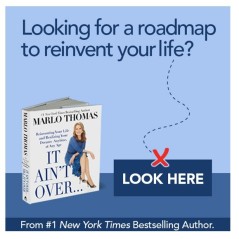 Add Marlo On Facebook:
Follow Marlo on Twitter:
Sign up to receive my email newsletter each week - It will keep you up-to-date on upcoming articles, Mondays with Marlo guests, videos, and more!