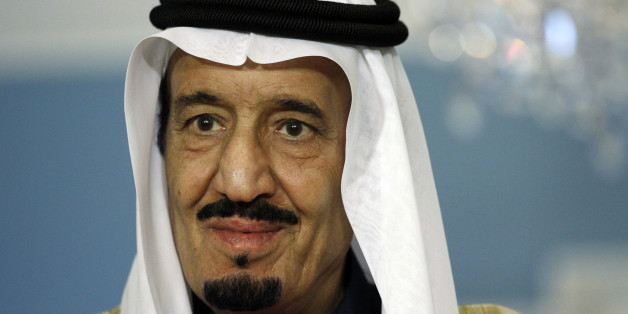 Saudi Arabia's new monarch, King Salman bin Abdul-Aziz Al Saud, comes to power at a time when blogger Raif Badawi has been sentenced to 10 years in prison and 1,000 lashes for criticizing Islam. Will the new king usher in a more open era for religious freedom?
Probably not, experts say.
"Given King Salman's close ties with the Wahhabi religious establishment, I would expect that the new king will be if anything tougher on dissent in the kingdom," Karen Elliott House, journalist and author of 'On Saudi Arabia: Its People, Past, Religion, Fault Lines -- And Future' told The Huffington Post by email.
Wahhabism, a branch of Sunni Islam that emphasizes literal interpretation of the Quran, has long dominated religious life in Saudi Arabia. Its strictness often leads believers to reject other forms of faith, even within Islam, and has been called by some critics the "fountainhead of Islamist terrorism."
"The religious curriculum in Saudi Arabia teaches you that people are basically two sides: Salafis [Wahhabis], who are the winners, the chosen ones, who will go to heaven, and the rest," Ali al-Ahmed, director of the Washington-based Institute of Gulf Affairs, told PBS in 2001. "The rest are Muslims and Christians and Jews and others."
The ultraconservative country has come under attack from the international community in recent months for enforcing strict punishment on Badawi, who many say was exercising a human right to free speech. The turnover of power could, however, result in pardoning for the blogger, House mused.
"Sometimes when senior royals die, the new King releases prisoners or does some other magnanimous act," she said.
In a series of lectures delivered at King Abdulaziz University in Jeddah in 2012, Salman, 79, argued for "moderation" in religion and argued against the rise of extremism.
"We should read the history of the leaders who adopted an extremist stance in their policies and decisions which exposed their countries to wars and turmoil or because of their following personal whims or fleeting man-made ideologies," then-Prince Salman said.
He continued: "We have been honored by Allah with the opportunity to serve Arab and Muslim people. That service is undertaken with real moderation based on the principles of the religion and not for any personal motives."
Three years later and crowned king, Salman addressed his country, saying: "We will continue adhering to the correct policies which Saudi Arabia has followed since its establishment."
Change may be on the horizon, though, with the rise of social media movements, as well as a growing contingent of Saudi women unwilling to accept the kingdom's strict gender regulations.
"People you talk to, they are much more willing to raise their voice now than before," al-Ahmed told AP. "When Abdullah came, people had high hopes. I don't think that is there now. ... People think of [Salman] as another Al Saud prince who is not willing to share power, so I think people are going to accelerate their demands."
BEFORE YOU GO
PHOTO GALLERY
Tributes to King Abdullah of Saudi Arabia