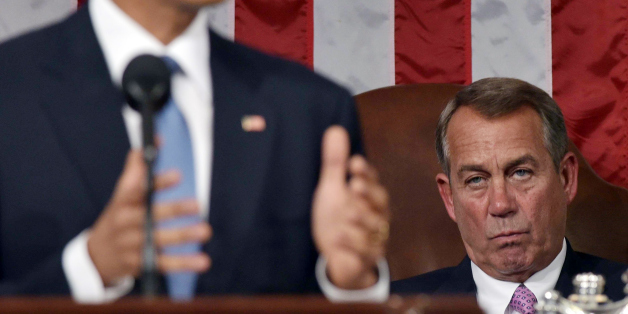 So, that happened: This week, President Barack Obama delivered his sixth State of the Union address before a joint session of Congress now completely controlled by his opposition. The Huffington Post's Sabrina Siddiqui was there, and she joins us to discuss the oration and the reaction.
Listen to this week's "So, That Happened" below:
* * *
Some highlights from this week:
"It was honestly, by all accounts, Obama feeling as though he's been completely freed of the politics that have marred especially the last two years of his presidency." -- Sabrina Siddiqui
In Tuesday's speech, the most newsworthy moment came when the President emphasized the importance of what he called "middle-class economics." The quick, hot take was that by doing so, Obama was opening a new round of combat with Republicans. We'll discuss how a focus on the middle class will also present a challenge for Democrats -- and for our political culture in general.
"There's a more general call to claw back wealth accrued by the 1 percent and spread it around more fairly in a larger population that has not made it out from the Great Recession. This is something that may be the most difficult part of the whole State of the Union address to finesse." -- Jason Linkins
Finally, once the pageantry of the State of the Union had faded, Congress returned to its typical State of Disarray. We'll go over the loudest of the week's facepalms.
Exhibit A, courtesy of the House:
"Basically, the bill said rapes are only legitimate if they were reported to police." -- Arthur Delaney
* * *
We're very happy to let you know that "So, That Happened" is now available on iTunes. We've been working to create an eclectic and informative panel show that's constantly evolving, a show that's as in touch with the top stories of the week as it is with important stories that go underreported. We'll be here on a weekly basis, bringing you the goods.
Never miss an episode: Subscribe to "So, That Happened" on iTunes, and if you like what you hear, please leave a review. We also encourage you to check out other HuffPost Podcasts: HuffPost Comedy's "Too Long; Didn't Listen," the HuffPost Weird News Podcast, HuffPost Politics' "Drinking and Talking," HuffPost Live's "Fine Print" and HuffPost Entertainment's Podcast.
This podcast was edited by Ibrahim Balkhy and engineered by Brad Shannon, with assistance from Christine Conetta, Chris Gentilviso and Adriana Usero.
Have a story you'd like to hear discussed on "So, That Happened"? Email us at your convenience!
BEFORE YOU GO
PHOTO GALLERY
Unforgettable State of The Union Moments