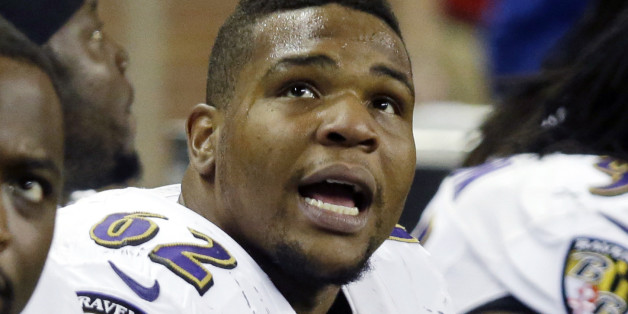 The Baltimore Ravens announced Friday that they will release nose tackle Terrence Cody after the Super Bowl. The decision comes as the NFL player faces allegations of animal cruelty.
According to the Baltimore Sun, Cody is under investigation by the Baltimore County State's Attorney's office for animal cruelty. The case is believed to involve the death of the 26-year-old athlete's dog, the Sun wrote.
Cody has not been arrested.
In the Ravens' announcement Friday, the team did not cite a reason for Cody's release. However, a Ravens spokesman told the Associated Press that the team was "aware" of the investigation.
Cody's agent, Peter Schaffer, told the Sun that his client's dog, a bull mastiff, had died after the NFL player took the animal to a veterinarian.
"He loves this dog," the agent said. "Why would he have the dog treated otherwise? This guy is the salt of the earth."
Schaffer, who has not spoken about the specifics of the case, told the AP that the investigation is "shameful."
"It's not even a story. It's a joke," Schaffer said. "If he wasn't a professional athlete, this would never have happened."
Little is publicly known about the investigation. The state's attorney's office did not respond to The Huffington Post's requests for comment.
Cody was set to become an unrestricted free agent in March when his one-year contract with the Ravens was due to expire.