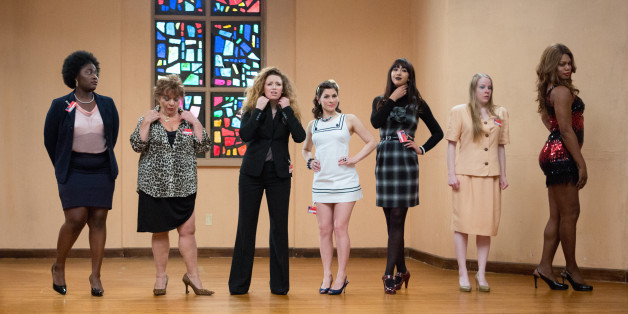 Orange is most definitely the new black when it comes to awards praise.
The Netflix show may have been shut out by the undefeated "Modern Family" for Best Comedy at the Emmys last year -- which people weren't too pleased about -- but Jenji Kohan's series has finally triumphed.
At the Producers Guild Awards on Saturday night, "Orange Is the New Black" took home the 2015 PGA Award for Outstanding Producer of Episodic Television, Comedy. The women's prison comedy beat out "Modern Family," which has won for the past four years, as well as "The Big Bang Theory," "Louie" and "Veep."
"OITNB" also received acclaim when named one of the American Film Institute's top 10 television programs of the year last December. While "Modern Family" had been included on the AFI list from 2010 to 2013, the ABC comedy was left off last year.
The two series will go head-to-head again on Sunday night when they'll compete for the Screen Actors Guild Award for Outstanding Performance by an Ensemble in a Comedy, which "Modern Family" has won for the past four years. Will the ladies of Litchfield upset the Dunphys and Pritchetts again?
The 21st annual SAG Awards air on Sunday at 8:00 p.m. ET on TBS and TNT.
BEFORE YOU GO
PHOTO GALLERY
"Orange Is The New Black"