The body of one of the most celebrated authors in the history of the printed word has been missing for hundreds of years. But now, researchers believe they may be getting closer to finding the remains of "Don Quixote" writer Miguel de Cervantes.
Over the weekend, a team of 20 scientists gathered at the Convent of the Barefoot Trinitarians in Madrid to examine bones found in the chapel's crypt, bones that may belong to Cervantes, who was buried in the convent in an unmarked grave 399 years ago.
The team found three unidentified graves inside the chapel and are looking at the bones for signs they may be those of the writer, who was badly injured in a naval battle in 1571.
(Story continues after image.)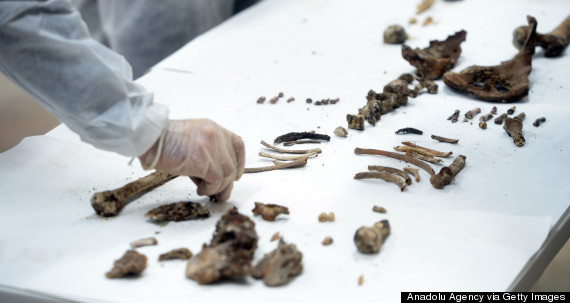 Scientists examine bones in the Convent of the Barefoot Trinitarians in Madrid.
"He received a blast from a harquebus in the chest and another wound that left him unable to use one hand," historian Fernando de Prado told The Guardian in 2011. "Those two things will have left some imprint on his bones."
Project leader Almudena Garcia Rubio told The Associated Press that in addition to the three unidentified graves, there were four other promising locations inside the convent.
"Were we to find remains that fulfill the characteristics we are looking for, we could possibly pass to a next stage," Francisco Etxeberria, a forensic medicine specialist from the University of the Basque Country, told AP. "That would be to compare DNA similarities with his sister, but that is a very complex step."
Finding the bones is about more than just knowing the last resting place of the famed author, poet and playwright.
"They may not just help us to discover what he looked like, but also why he died," Prado told the Guardian. "It is said that he was very ill late in life, but that is also when he was very productive as an author."
Historians have long debated the nature of Cervantes' illness and death. There has been some speculation that he was a heavy drinker and suffered from cirrhosis of the liver. There's also evidence to believe he may have been diabetic in a time when the disease was poorly understood and untreatable.
In addition, it's been suggested that Cervantes suffered from malaria, heart failure and/or kidney failure.
If his remains are found, they will "remain buried in the church, but with a plaque that says he is there," Prado told AFP last year.
Cervantes' two-volume tale of the windmill-fighting knight is widely considered to be the first modern novel. While it was in wide circulated even in Cervantes' lifetime, it didn't make him wealthy. He died in 1616 at the age of 68.
"Don Quixote" is available for free as part of Project Gutenberg.
BEFORE YOU GO
PHOTO GALLERY
Writers Who Reinvented American Literature