What appealed to Jennifer Aniston about her recent role in Cake? "[Claire] was such a beautifully layered, complex character," Jennifer says, "there was so much to explore -- it was like a soufflé, and I was just drooling." Jen knew right away that she wanted to play Claire Bennett. "It's not often that you read a screenplay and you can't put it down," Jen says "I just fell in love with her." Cake's screenwriter Patrick Tobin actually submitted the screenplay to a writing competition, where director Daniel Barnz was a judge. Tobin won the competition, and Barnz asked him if he could make the screenplay into a movie. "I feel like we've all taken a leap," Jen says, "we were a team that worked really well together."
View the slideshow below for 10 reasons why I love Jennifer Aniston!
PHOTO GALLERY
10 Reasons Why I Love Jennifer Aniston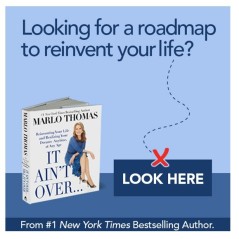 Add Marlo On Facebook:
Follow Marlo on Twitter:
Sign up to receive my email newsletter each week - It will keep you up-to-date on upcoming articles, Mondays with Marlo guests, videos, and more!