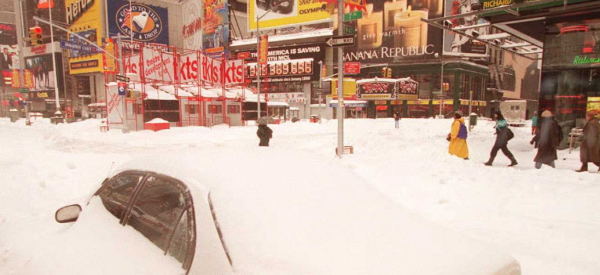 TOP STORIES
To get The Morning Email, HuffPost's daily roundup of the news, in your inbox, sign up here.
NORTHEAST BUCKLES DOWN FOR MONSTER SNOWSTORM Winter storm Juno is expected to dump over two feet on a 250 mile stretch from New Jersey to Maine. A blizzard warning has been issued for seven states, and airlines have already canceled over 3,500 flights. New York Mayor Bill de Blasio said the storm could be the largest the city has ever seen. [HuffPost]

EUROZONE IN BALANCE AFTER GREEK ELECTION Radical left-wing leader Alexis Tsipras has formed a coalition government focused on austerity reduction and will likely become the next Prime Minister. And while markets have recovered from the news, the European Union's cohesion is threatened. [NYT]
DRONE FOUND ON WHITE HOUSE GROUNDS According to the White House Press Secretary Josh Earnest, the drone was not a threat. [NYT]
BOKO HARAM CONTINUES NIGERIAN OFFENSIVE "In fierce fighting Sunday that killed more than 200 combatants, Nigerian troops clashed with Islamic extremists who attacked Maiduguri, the biggest city in northeastern Nigeria, from three fronts. At the same time the insurgents continued scorched-earth attacks on villages some 200 kilometers (125 miles) to the south in Adamawa state, slitting throats of residents, looting and burning homes and abducting dozens of trapped women and children, according to Vandu Kainu and other escaping survivors." [AP]
U.S., EUROPE THREATEN NEW RUSSIAN SANCTIONS "U.S. and European leaders threatened new sanctions against Moscow after a missile attack blamed on pro-Russian separatists killed 30 civilians in the eastern Ukrainian city of Mariupol, the latest escalation in violence that has brought Kiev's fight with rebels back toward full-scale war." [WSJ]
ISIS BEHEADS JAPANESE HOSTAGE "Japan's prime minister expressed outrage on Sunday at an image released Saturday that appeared to show the decapitated body of one of two Japanese hostages captured by Islamic State militants, and President Obama condemned what he called a 'brutal murder.'" [NYT]
NYT COLUMNIST: MY SON HELD AT GUNPOINT, AT YALE "This is the scenario I have always dreaded: my son at the wrong end of a gun barrel, face down on the concrete. I had always dreaded the moment that we would share stories about encounters with the police in which our lives hung in the balance, intergenerational stories of joining the inglorious 'club.' When that moment came, I was exceedingly happy I had talked to him about how to conduct himself if a situation like this ever occurred. Yet I was brewing with sadness and anger that he had to use that advice." [NYT]
TRAIL TO THE CHIEF: ULTRA-PREMATURE VP EDITION "When we started 'Trail To The Chief,' the first question we got was: 'Are you sure it's not too soon to start ranking presidential candidates?' And that's fair: We don't really know what the field looks like. Maybe it pays to be circumspect. So, naturally, for our next trick, we're going to rank the vice presidential candidates. How's that for premature coverage?" [HuffPost]
WHAT'S BREWING
SAG AWARDS SHAKE UP OSCAR RACE The triumph of "Birdman" last night jeopardizes the Best Picture dreams of "Boyhood." Check out all the winners and stunning fashion, as well as Viola Davis' incredible speech. [HuffPost]
PIZZA HUT TO OFFER FIRST FULLY GLUTEN-FREE PIZZA "Beginning Jan. 26, roughly 2,400 of the chain's 6,300 domestic locations will begin selling gluten-free pizzas. The move comes two years after rival Domino's rolled out a pizza sold with a gluten-free crust -- but not entirely gluten free. Pizza Hut will be the first major pizza chain to sell a pizza that is certified gluten-free." [USA Today]
LISTEN TO THE RIHANNA, KANYE, PAUL MCCARTNEY SONG It's called "FourFiveSeconds." [HuffPost]
TEEN INVOLVED IN MASSIVE JEWEL HEIST The girl snatched a diamond necklace worth over $4.6 million while three adult accomplices kept shop workers busy in Hong Kong. [CNN]
THE TOP DINERS IN AMERICA Bring on the over-easy eggs. [Thrillist]
THE ARGUMENT FOR A FACEBOOK 'SYMPATHY' BUTTON "'Sympathy' is the perfect sentiment to cover what Facebook lacks. It can mean a feeling of pity or sorrow for someone else's misfortune, and also an understanding between people -- a common feeling. It would be appropriate for nearly every Facebook post that gears toward the negative, from sending 'Sympathy' if someone loses a loved one to saying 'I sympathize' if someone's in bed with the flu." [Mashable]
MEET THE NEW MISS UNIVERSE Miss Colombia Paulina Vega took the crown, while Miss USA Nia Sanchez was first runner-up. [AP]
100 IMPRESSIONS OF CARTOON CHARACTERS In under 5 minutes. Mind blown. [HuffPost]
OBAMA TO SET ASIDE 12 MILLION ALASKAN ACRES The move will contain "1.52 million acres of the refuge's coastal plain, 5.85 million acres of the Brooks mountain range and 4.92 million acres of the Porcupine Plateau." [WaPo]
ALL THE BAD THINGS THAT HAPPEN WHEN YOU PULL AN ALL NIGHTER Things like toxic metabolic refuse build up on your brain. And you can't keep your eyes open. Don't do it. [Buzzfeed]
ON THE BLOG
HOW TO TIE A TIE "Here is a list of many different ways to tie a tie, for every and any occasion, many of which you probably never knew existed. We've gathered 30 of the best tie knots ever created by mankind to give you just the edge you need to look your best at all times. Each tie knot has been judged on four different factors: aesthetics, symmetry, difficulty, and knot size." [HuffPost]
BEFORE YOU GO
~ Generate your own hipster logo.
~ Oh Tom Hanks, don't you know it's not okay to take up two Subway seats?
~ "You repulse me the least": Valentine's Day cards for the anti-sap.
~ A massive asteroid is set to fly by the Earth today, but NASA assures us we'll survive it.
~ Keira Knightley is having a baby girl!
~ You could ice skate on Sofia Vergara's engagement ring.
~ Johnny Depp vs. Gwyneth Paltrow in a game of Never Have I Ever -- what could go wrong?
~ This is one heckuva cat house.
~ After years in hiding, Taylor Swift's belly button finally made an appearance over the weekend.
~ This Sundance documentry claims the Church of Scientology's leadership conspired to drive Nicole Kidman and Tom Cruise apart.
~ The "Full House" cast reunited to sing the theme song.
~ You can now get a college scholarship for playing video games.
~ This rabbit can deliver beer -- somebody get him a Super Bowl commercial.
~ And because Monday's are hard, here's a baby panda brawl.
Send tips/quips/quotes/stories/photos/events/scoops to Lauren Weber at lauren.weber@huffingtonpost.com. Follow us on Twitter @LaurenWeberHP. And like what you're reading? Sign up here to get The Morning Email delivered to you.