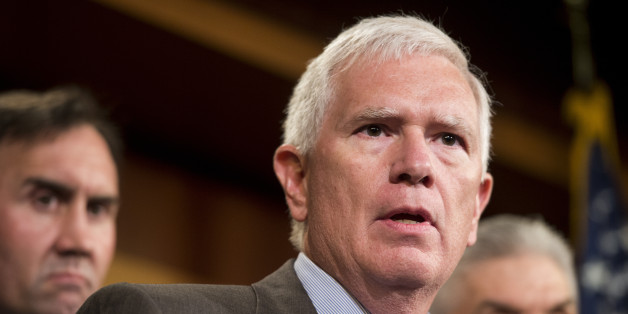 WASHINGTON -- Conservatives are claiming victory over the delay of a House Republican border security bill that was set to go for a vote this week, only to be pulled from the calendar on Monday.
The bill was taken off the calendar after snowstorms delayed the start of the House's workweek, but conservative lawmakers aren't buying that the weather was the culprit.
"I think the weather was a convenient excuse," Rep. Matt Salmon (R-Ariz.), who opposes the bill, told HuffPost after a House Republican conference meeting on Tuesday morning.
Some House Democrats agreed.
"My Republican friends say it was pulled because of the weather," Minority Whip Steny Hoyer (D-Md.) told reporters Tuesday morning. "There's no doubt that they could have done the border bill had they had the votes to do it. They did, once again, demonstrate the deep and internal divisions within their party."
The bill from Rep. Michael McCaul (R-Texas) was approved last week by the House Committee on Homeland Security, which he chairs. It would require that the department attain full operational control of highly trafficked areas of the U.S.-Mexico border within two years, and the rest of the southwest border within five years. McCaul's counterpart in the Senate, Homeland Security and Governmental Affairs Chairman Ron Johnson (R-Wis.), introduced a companion bill in the Senate, joined by Sens. John Cornyn (R-Texas) and Jeff Flake (R-Ariz.).
Democrats largely oppose the bill, so a majority of Republicans would need to be on board for it to pass. The problem some conservatives have with McCaul's bill is that it doesn't address interior immigration enforcement or ban officials from releasing some border-crossers based on credible fear claims. Some argued the bill should be paired with legislation that requires the government to crack down on unauthorized immigrants already in the U.S.
"It is a mirage," Rep. Mo Brooks (R-Ala.) told reporters on Tuesday. "It purports to be border security. When it does affect the border, it provides no security."
Brooks said the newly-created House Freedom Caucus had polled its members and found they had enough votes to delay the bill, although he declined to say how many members are in the group. He said "not one" member of the Freedom Caucus opposed delaying the border security bill.
Senate Judiciary Committee Chairman Chuck Grassley (R-Iowa) tweeted Tuesday that he wants the House to use the delay to pair the border security bill with other legislation.
Thanks to house of Rep not moving ahead w BorderSecurity bill. It wld not secure border. Now House has time to marry that w Judiciary bill

— ChuckGrassley (@ChuckGrassley) January 27, 2015
Others outside the House have also been pushing back on McCaul's bill. Sen. Jeff Sessions (R-Ala.) is urging Republicans in the House to oppose the legislation. The National Border Patrol Council announced opposition to the bill last week, with the union's spokesman saying the bill "does not provide either the strategy or the resources necessary to achieve" the better border security it demands. The conservative group Heritage Action issued a statement on Monday saying "the House was right to pull the bill."
McCaul took last week issue with the idea that his bill should include other immigration matters, which are the purview of the Judiciary Committee. He issued a joint statement last week with Judiciary Committee Chairman Bob Goodlatte (R-Va.), saying his border bill is part of "a step-by-step approach to deliver on these long-overdue promises made to the American people so that we gain operational control of our borders and guarantee that our immigration laws will be enforced moving forward."
House Speaker John Boehner (R-Ohio) said in a Tuesday press conference that they would continue to work to build support for the bill.
"We're going to continue to talk to our members about these issues," he said. "When you look at it, it wasn't the border bill itself, frankly it was issues that weren't even in the committee's jurisdiction. So we're going to have to walk through all of this with our members, and when we're ready to move, we will."
Rep. Tom Cole (R-Okla.), a Boehner ally, told reporters Tuesday that he thinks opposition is partially based on a misunderstanding over what is within the Homeland Security Committee's jurisdiction.
"I don't think this is going to be that difficult to pass," he said. "I think once you put it on the floor, people are not likely to vote against a border security bill."
Jennifer Bendery contributed reporting.
BEFORE YOU GO
PHOTO GALLERY
11 Ways Immigration Reform Helps The Economy