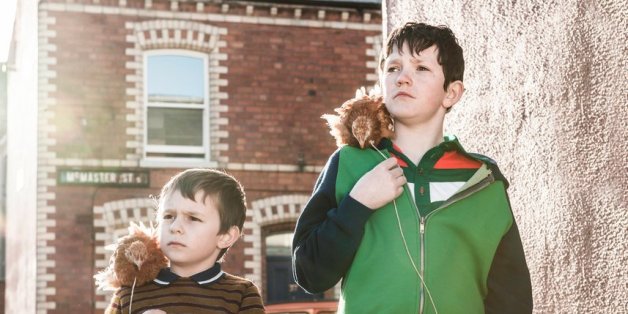 A lot of people haven't seen the Best Picture nominees this year, so we can assume that possibly no one -- maybe not even Academy members themselves -- has seen the short films. But there's still time!
Starting Jan. 30, the recognized titles will play in over 350 venues across the U.S. and Canada. Check out the full list and head to the theater, or just wait for them to be on VOD in February (because, let's be real, you're not getting off your couch):
Live Action
"Aya"
"Aya" tells the story of two strangers who meet at an airport when a man mistakes a woman for his chauffeur, and she is so intrigued she goes along with it. Basically, Mihal Brezis and Oded Binnun's short is the closest thing to a rom-com we could expect to be nominated for an Oscar this year: a serendipitous meet-cute, except understated and with subtitles.
AYA - Short Film - Official trailer from Oded Binnun עודד בן נון on Vimeo.
"Boogaloo and Graham"
In 1978 Belfast, a father gives his sons, Jamesy and Malachy, two chicks, Boogaloo and Graham. They become vegetarians, make plans to start a chicken farm and just generally grow obsessed to their pets (in part, through a montage set to "Why Do Fools Fall In Love?"), before having to grapple with the way their family is about to change.
Boogaloo and Graham Trailer from Out of Orbit on Vimeo.
"Butter Lamp" ("La lampe au beurre de yak")
A photographer and his assistant photograph Tiebetan nomads against an unexpected mix of backgrounds (from The Great Wall to Disney World) for a mesmerizing look at cultural dissonance.
The Butter Lamp (Trailer) from Mostra Ecofalante on Vimeo.
"Parvaneh"
"Parvanah" follows an Afghan immigrant as she travels to Zurich and explores an unlikely friendship.
PARVANEH - Trailer from hiddenframe on Vimeo.
"The Phone Call"
In this 21-minute short, a shy telephone operator works a help line and receives a call that changes the way she sees the world. The foreboding tone combined with English accents of Sally Hawkins and Jim Broadbent may leave you wishing it was a "Black Mirror" episode. Although, "The Phone Call" is much more sentimental than anything going on in Charlie Brooker's head.
The Phone Call Trailer from Lizzy Graham on Vimeo.
Animated
"A Single Life"
A two-minute look at the phases of life that could easily work as the opener for the next Pixar film.
A SINGLE LIFE - TRAILER from Job, Joris & Marieke on Vimeo.
"Feast"
With "Feast," "Paperman" head of animation Patrick Osborne takes on a simple yet touching premise: a man's life as told through the meals he shares with his dog.
"Me and My Moulton"
Remember "Arthur"? There are no anthropomorphic aardvarks in "Me and My Moulton." The similarities ring true in the deadpan educational vibes with which director Torill Kove walks through a Norwegian girl's life, as she grows up and learns to appreciate her family despite their shortcomings.
Me and My Moulton - Official Trailer - English version from Mikrofilm AS on Vimeo.
"The Bigger Picture"
In "The Bigger Picture" an eerie mix of stop motion and life-sized painting is used to depict the dark comedy that is caring for an elderly mother.
The Bigger Picture Trailer from daisy jacobs on Vimeo.
"The Dam Keeper"
Somehow, the beautiful animation in Robert Kondo and Dice Tsutsumi's short makes the unfamiliar story of "The Dam Keeper" -- a precocious pig tasked with keeping "the darkness" away -- feel like your most beloved childhood storybook come to life.
Documentary
"Crisis Hotline: Veterans Press 1"
"Crisis Hotline" takes on the trauma of veterans through the lens of the crisis hotline's trained responders. Sort of like if "The Waiting Room" went with a different American inadequacy, and took on the veteran care in place of the health-care crisis.
"Joanna"
This 40-minute film is a gorgeous look at a mother's final moments with her son as she faces an untreatable illness. There is no in-depth explanation of what Joanna is dealing with. No heavy confessional interviews. Just glimpses at a parent-child bond, cherished as it ought to be (but often isn't) sans extenuating circumstances. "Joanna" is as heartwarming as it is poetic. And director Aneta Kopacz refuses to wallow, reflecting the beauty in Joanna's story with as much intensity as its inherent sadness.
JOANNA by Aneta Kopacz - trailer for the short documentary (40') from Wajda Studio on Vimeo.
"Our Curse"
"Our Curse" functions as a personal statement from director Tomasz Sliwinski and his wife. Over 40 minutes, the two grapple with the reality of the fact that their son was born with Ondine's Curse (congenital central hypoventilation syndrome or CCHS), a disease which will likely leave him dependent on a ventilator for the remainder of his life. "I forget I have a child," she says one night, looking hollowed-out over a glass of wine, during one of the many confessionals throughout the film. Here we have a raw form of parental anguish, disturbing if only because of how rarely it is seen outside of closed doors.
NASZA KLĄTWA / OUR CURSE (trailer) from Tomasz Śliwiński on Vimeo.
"The Reaper"
In "The Reaper," a longtime slaughterhouse worker (hence the subtle title) faces his own relationship with death in light of his gruesome surroundings. "The animals just came in and stared at me," he says, recounting a dream against a montage of bloodied cow bodies and steel. "They said, 'It's your turn.'"
La Parka / The Reaper trailer from CCCMexico on Vimeo.
"White Earth"
"White Earth" could have easily folded out into a feature-length film, though it benefitted from zooming in where it did. This documentary depicts the families of the (mostly) men who uproot their lives to work on the oil rigs in North Dakota. Director J. Christian Jensen spends almost no time with the men themselves, opting for an unflinching look at what life looks like for the people closest to them instead.
BEFORE YOU GO
PHOTO GALLERY
2015 Oscar Nominees