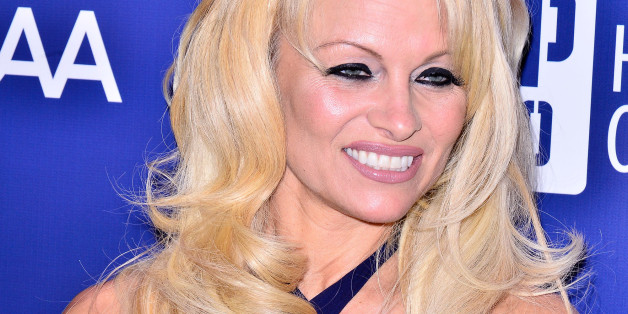 She's graced the cover of Playboy more than any other woman to date, but Pamela Anderson doesn't think of herself as model material.
In a lengthy interview with Parade, the "Baywatch" alum discussed her current projects, including a new contract with a modeling agency. Anderson told the publication:
"I've just signed with Next Modeling agency for commercials and appearances. That is funny. I've never felt pretty enough to be a model. I think I've provoked feelings with how I look. But not as a beauty, but as a mischievous little rascal!"
Fans got a glimpse of Anderson's high fashion makeover when she covered the fall 2014 issue of No Tofu magazine in relatively minimal makeup and designer duds.
Although the mother-of-two may have her reservations about her looks, the 47-year-old told Parade that she's comfortable with aging:
I don't really feel like I want to chase youth. I want to get old. I want to experience all the seasons of my life. I just don't want to be afraid of it. And I think in this industry you're surrounded by a lot of fear of getting older and fear of your looks leaving you. And I thought well, I'm lucky then because I never really felt that great looking. I felt like I had fun. I felt like I could be sexy. I could be provocative and I could use my image to get attention for things that I cared about.
The blonde bombshell has been a longtime advocate of animal rights, working with organizations like PETA to protect them. In May 2014, Anderson launched the Pamela Anderson Foundation, which serves to "protect human, animal and environmental rights."
BEFORE YOU GO
PHOTO GALLERY
Pamela Anderson's Fashion Moments