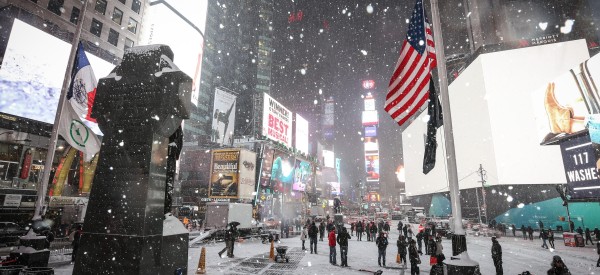 TOP STORIES
To get The Morning Email, HuffPost's daily roundup of the news, in your inbox, sign up here.
SUPERSTORM JUNO SPARES NEW YORK CITY "A storm packing blizzard conditions spun up the East Coast early Tuesday, pounding parts of coastal New Jersey northward through Maine with high winds and heavy snow. While the storm failed to live up to predictions in some areas, eastern Long Island north through Massachusetts and Maine were expected to fare the worst, with 1 to 3 feet of snow, punishing hurricane-force winds and the possibility of some coastal flooding, according to the National Weather Service." Check out the latest radar, as well as predicted snowfall for the region. Over 7,700 flights have been canceled for winter storm Juno. [AP]

THE GOVERNMENT COULD BE TRACKING YOUR CAR "The Justice Department has been building a national database to track in real time the movement of vehicles around the U.S., a secret domestic intelligence-gathering program that scans and stores hundreds of millions of records about motorists, according to current and former officials and government documents." [WSJ]
KOCH-BACKED GROUPS TO SPEND NEARLY A BILLION IN 2016 The $889 million planned is double the $407 million raised in 2012. [WaPo]
KURDISH FIGHTERS CLAIM TO HAVE RECAPTURED KOBANI While Kurdish forces are claiming victory in the four-month struggle for the Syrian city, ISIS supporters on Twitter say the fight is still ongoing. [Reuters]
RUSSIAN SPY RING CHARGED "Three Russian citizens were charged Monday in connection with a Cold War-style Russian spy ring that spoke in code, passed messages concealed in bags and magazines, and tried to recruit people with ties to an unnamed New York City university, authorities said." [AP]
DRONE THAT CRASHED NEAR WHITE HOUSE WAS RECREATIONAL The drone that was found on White House grounds was operated by a government employee who was recreationally flying the device around 3 a.m. in the area. So far no charges have been filed. The incident has raised serious questions about the Secret Service's ability to protect the White House from this new type of aerial threat. [NYT]
RUSSIA'S CREDIT RATING DOWNGRADED TO JUNK "Russia's fractured economy suffered another potential blow Monday after credit-rating firm Standard & Poor's cut the country's credit rating to junk, sending it below investment grade for the first time in more than a decade. While the move had been largely anticipated by financial markets, the news, which came late in the Russia day, helped drive the battered ruble even lower." Russia's SB Bank has stopped allowing withdrawals. [WSJ]
VIDEO EMERGES OF PATRIOTS STAFFER TAKING FOOTBALLS TO THE BATHROOM But as this Deadspin article points out, it'd be pretty difficult to deflate each ball exactly two pounds in the 90 seconds the employee appears to use the facilities. [HuffPost]
WHAT'S BREWING
LANCE ARMSTRONG: 'I WOULD PROBABLY DO IT AGAIN' The disgraced cycling legend talked to the BBC about the pervasive culture of drugs in the cycling world in 1995. [BBC]
THE DANGER OF COP-TRACKING APP WAZE While the vast majority of people use the popular mapping app to avoid speed traps, police officers fear it could be used to target law enforcement. [WaPo]
SNOWSTORM KNOCKS OUT FACEBOOK, INSTAGRAM What's the point of a snow day if you can't brag about it? [HuffPost]
WHAT TO BINGE WATCH, READ IN THE SNOWSTORM Who needs friends when you have Netflix? But if you want to feed your mind, here are some pageturners. [HuffPost]
EMMA WATSON WILL BE BELLE In Disney's live-action "Beauty and the Beast." Cue the jumping up and down. [HuffPost]
THE DREAM TEAM, BACK TOGETHER "'Selma' director Ava DuVernay has found her next feature film: a 'sweeping love story and complex murder mystery' set against the devastation of Hurricane Katrina. Participant Media will produce the film; 'Selma's' David Oyelowo is in negotiations to star." [HuffPost]
ADELE, JENNIFER LAWRENCE, AND HARRY STYLES WALKED INTO A BAR This is not a joke. It happened. [Vanity Fair]
WORK OUT WITH A FRIEND Without killing each other. [HuffPost]
ON THE BLOG
FORMER GREEK PRIME MINISTER: THE WAY FORWARD "On the economic front, we put emphasis on a stable and fair tax system and investment in a green economy that will address the current problems of both foreign investors and Greek citizens. We plan to utilize global and innovative experiences in creating a movement based on wide participatory practices, deliberation, self-organization, crowd sourcing solutions, continuing education and transparency." [HuffPost]
BEFORE YOU GO
~ You can now track your kids with a smartwatch.
~ How to use your smartphone with gloves on.
~ KFC rolled out a hotdog wrapped in fried chicken in the Philippines. It's only a matter of time before that becomes a hit in the U.S.
~ Kim Kardashian and Cara DeLevingne cover "Love" magazine. Or really, Cara's tongue does.
~ Realistic Disney princess hair -- after all, how did Ariel's hair look like that underwater?
~ The best way to shovel snow.
~ What's happened in the "Serial" world since the hit podcast debuted.
~ Are you in the 1% in your state?
~ How the game cartridge came to be.
~ Don't worry, Mountain Dew lovers -- that soda will be around forever.
Send tips/quips/quotes/stories/photos/events/scoops to Lauren Weber at lauren.weber@huffingtonpost.com. Follow us on Twitter @LaurenWeberHP. And like what you're reading? Sign up here to get The Morning Email delivered to you.