Amal Clooney is definitely one of our newest style icons. But getting asked fashion questions while she's working? Amal is obviously SO over it.
Amal Clooney (née Alamuddin) is an accomplished human rights lawyer who has previously represented WikiLeaks Founder Julian Assange and been involved in many other notable negotiations, lawsuits and council appearances.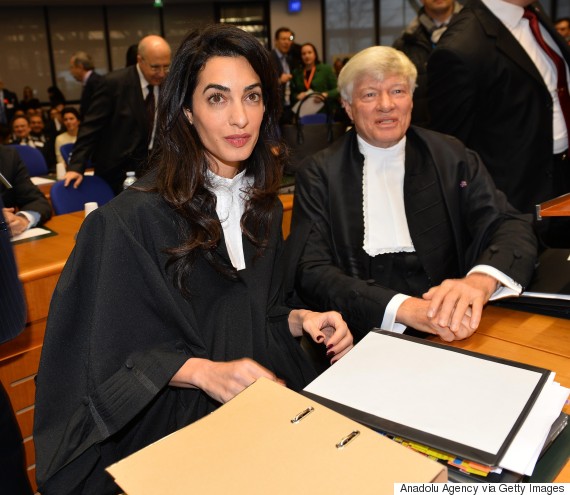 Clooney is currently representing Armenia's interests in a case against Doğu Perinçek, a Turkish politician who denies the Armenian Genocide. According to The Independent, Clooney appeared before the European Court of Human Rights (ECHR) in Strasbourg on Wednesday and some reporters took this time to talk about her style choices.
Bruno Waterfield, a correspondent for The Telegraph in Brussels, tweeted that he asked "Amal Clooney about the fashion speculation." Check out her reply:
I ask Amal Clooney about the fashion speculation. She laughed & pointed to her robes, "I'm wearing Ede & Ravenscroft" pic.twitter.com/cEsuy87Vda

— Bruno Waterfield (@BrunoBrussels) January 28, 2015
That's right -- Ede & Ravenscroft -- AKA the tailors that make her legal robes when she's "busy" being a human rights attorney. **Mic drop**
BEFORE YOU GO
PHOTO GALLERY
Amal Alamuddin Clooney