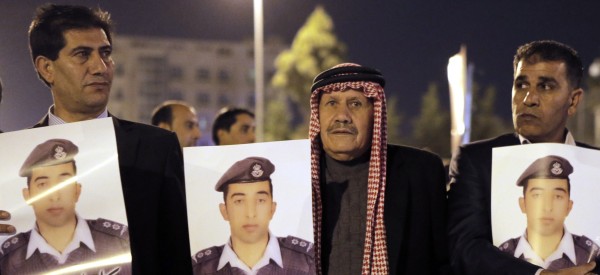 TOP STORIES
To get The Morning Email, HuffPost's daily roundup of the news, in your inbox, sign up here.
JORDAN CUTS DEAL FOR ISIS PRISONER SWAP "The Jordanian government agreed on Wednesday to release a convicted terrorist in exchange for the freeing of an air force pilot captured by Islamic State militants in Syria a month ago, according to a statement released on Jordanian state television just before a deadline set by the extremists. The militants had threatened to kill the pilot and a Japanese journalist if the deadline was not met. The Jordanian statement made no mention of the fate of the journalist." The parents of the hostages had begged each government to agree to the terrorist group's demand for a prisoner swap. And in the U.S., Rep. Adam Schiff (D-Calif.) introduced an ISIS War Authorization bill. [NYT]

OBAMA BACKS OFF FROM 529 COLLEGE PLAN TAXES "President Obama on Tuesday abandoned a proposal to end a major tax benefit of popular college savings accounts used by millions of American families after the White House faced mounting criticism from lawmakers and parents. White House officials said the backlash against the president's plan became "such a distraction" that it was best to drop the proposal, which would have removed the ability of families to withdraw money tax-free from the savings plans, known as 529s." [WaPo]
APPLE CRUSHES QUARTERLY EXPECTATIONS The tech giant raked in $18 billion this quarter, 38% more than last quarter. News also broke that the Apple Watch will be released in April. [HuffPost]
U.S. GUARANTEES $2 BILLION LOAN WITH UKRAINE Vladimir Putin is karate-chopping his anger away somewhere. [Reuters]
AMERICAN KILLED IN LIBYAN HOTEL ATTACK The Tripoli branch of ISIS has taken credit for the attack on a luxury hotel that killed ten, including one American. [AP]
ECONOMIC REBOUND GOOD FOR AMERICAN CONSUMER, BAD FOR AMERICAN BUSINESSES "For some time now, the United States stock market has been propelled forward by a domestic economy that has been growing swiftly compared with Europe, Japan and many once-buoyant emerging markets. Yet while the American consumer may be cashing in on lower oil prices, rock-bottom interest rates and — for those planning trips to Paris and Rome — a strong dollar, a growing number of big American multinational companies have begun to suffer from these very same trends." [NYT]
TWO VANDERBILT FOOTBALL PLAYERS FOUND GUILTY OF RAPE CHARGES "A jury convicted two ex-Vanderbilt football players on Tuesday of raping a former student, rejecting claims that they were too drunk to know what they were doing and that a college culture of binge drinking and promiscuous sex should be blamed for the attack." [AP]
WHAT'S BREWING

MEET YOUR FEMALE GHOSTBUSTERS Melissa McCarthy, Leslie Jones, Kate McKinnon and Kristen Wiig will star in the Paul Feig reboot. [HuffPost]
GOOGLE FIBER HEADED TO FOUR MORE CITIES Move to Atlanta, Charlotte, Nashville and Raleigh-Durham for faster internet. [Google's Blog]
ABC ORDERED ANOTHER SHONDA PILOT Called "The Catch," it'll focus on a woman about to marry a con artist who she's conning herself, which sounds appropriately twisty for a Shondaland product. Also, it vaguely resemebles this Will Smith and Margot Robbie vehicle. [Variety]
THE OSCARS: BY THE NUMBERS The average age of the Best Actor winner is 44. [Entertainment Weekly]
THE NEW 'LET IT GO' The duo behind the song that has terrorized America will write the Oscars opening number for host Neil Patrick Harris. [Vulture]
'THE FANTASTIC FOUR' TRAILER HAS ARRIVED In all its Marvel glory. [Rolling Stone]
ALL THE REASONS TO ASK YOUR BOSS TO WORK FROM HOME Your TV is not one of them. [HuffPost]
ON THE BLOG
ARIANNA HUFFINGTON: CELEBRATING ONE YEAR OF WORLDPOST "A year after the launch of The WorldPost, that hunger is stronger than ever. Wherever we are in the world, we're living in a golden age of engagement for news consumers. And as the media landscape has evolved, The WorldPost has evolved along with it, while staying true to our DNA of combining the best of traditional journalism with the best of an open media and new technologies." [HuffPost]
BEFORE YOU GO
~ All of the photos from Bachelorette Desiree Hartsock and Chris Siegfried's wedding.
~ Kim Kardashian: Bruce Jenner is "on a journey."
~ Harvard raised $1.16 billion this year.
~ Everything wrong about movie archery.
~ "The Bachelor's" diversity problem.
~ The original Mr. Grey.
~ Turn snow shoveling into a workout.
~ Katie Holmes is returning to TV!
~ When T-Swift gets hacked, she responds "#HACKERS GONNA HACK HACK HACK HACK HACK."
~ That time ABC tried to fire Rosie Perez from the flailing "The View" and failed.
~ Blink 182 is having some band drama.
~ Up your homemade pizza game with these 30 recipes.
~ Marshawn Lynch really does NOT like the Super Bowl's media day.
~ Say hello to Twitter's group direct messages.
~ Chris Pratt as the new Indiana Jones? Yes, please.
Send tips/quips/quotes/stories/photos/events/scoops to Lauren Weber at lauren.weber@huffingtonpost.com. Follow us on Twitter @LaurenWeberHP. And like what you're reading? Sign up here to get The Morning Email delivered to you.