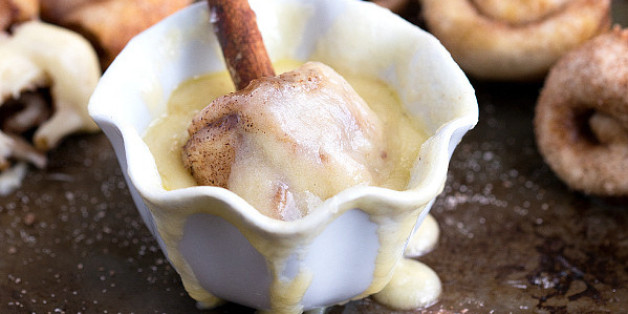 Cinnamon rolls are decadent treats we reserve for weekend brunch or snow days. Fondue is equally decadent, appropriate at celebrations and on cold winter nights when feasting and promptly falling asleep is the only thing on your agenda. Put these two foods together and you've got one of the most indulgent food mashups imaginable. We're talking about cinnamon roll fondue. Would you go there? Food blogger Chelsea of Chelsea's Messy Apron did.
Chelsea's recipe consists of cream cheese fondue that she makes in her slow cooker, and miniature cinnamon rolls that you dip into the fondue. She uses a cinnamon stick to dip the rolls into the cream cheese fondue. (Excuse the mini heart attack we just had.) Chelsea uses packaged biscuits to make the cinnamon rolls, which seems like a great decision, but you could also make cinnamon rolls yourself. Just make sure they're small enough to dip into your fondue pot. Alternatively, get a huge fondue pot.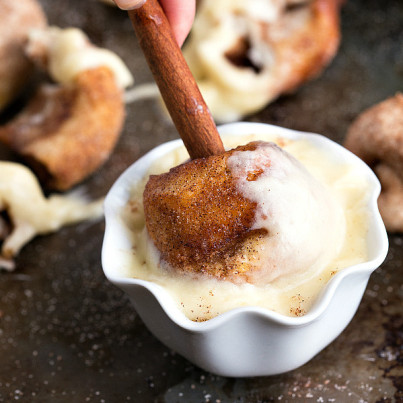 Cream cheese frosting is arguably the best part of the cinnamon roll -- save for the innermost piece that is completely coated in cinnamon sugar. Cinnamon roll fondue lets you cover the entire cinnamon roll in cream cheese frosting, and not only that, but the frosting will also be warm. Not that we needed to explain that to you. We merely like spelling it out to justify the aggressive decision to go through with this recipe -- a decision we'll be making this weekend and every weekend after that for the rest of our lives.
Requiring very few ingredients, and letting the slow cooker do the work, this recipe is much easier to make than you might think, which is a dangerous prospect indeed.
See Chelsea's Messy Apron for the full recipe.
Want to read more from HuffPost Taste? Follow us on Twitter, Facebook, Pinterest and Tumblr.
BEFORE YOU GO
PHOTO GALLERY
Cinnamon Rolls And Sticky Buns