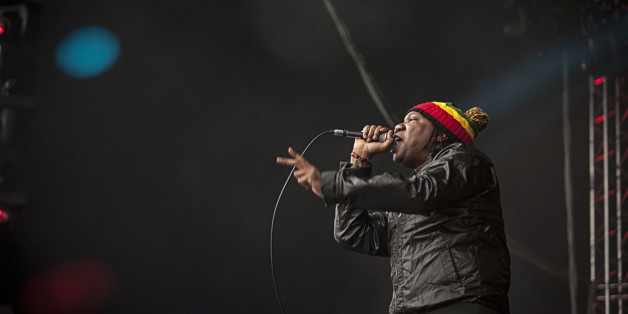 Arizona education officials may say it's illegal to teach his writing, but KRS-One isn't backing away.
The hip host artist offered a three-hour lecture to students at Tucson's Cholla Magnet High School Wednesday where he discussed the origins of the music genre and addressed the district's controversy over ethnic studies.
Earlier this month, the outgoing head of Arizona's education department, John Huppenthal, said the "culturally relevant" curriculum offered by Tucson schools violated a 2010 law restricting ethnic studies. The letter of noncompliance cited the teaching of Mexican history, a Rage Against the Machine song and a KRS-One essay called "An Introduction to Hip Hop" as examples of the illegal promotion of ethnic solidarity or the overthrow of the U.S. government.
But KRS-One praised the Tucson courses in his comments toward the students, according to an article posted to the school district's website.
"You should be proud of your school for doing this," KRS-One told the students.
The Tucson school district's article elaborated on his talk:
At Cholla, while KRS-One gave a lecture on the origins of Hip Hop and how it connected to his life and his success, it was more about philosophy of self worth. KRS-One encouraged the students to know themselves and "chisel out who you are."

The 50-year-old also told the students to build each other up along with everyone else they know. "When you feel great, you see others as great and you add value. Lift them up and show other cultures how great your culture is," he said.
After the talk, KRS-One gave an impromptu performance for the students. He had been in Tucson for a show Tuesday night and invited Tucson students and teachers to attend as special guests.
The Republican-dominated Arizona state legislature passed the ethnic studies law over concerns that a Mexican-American studies curriculum in Tucson public schools was breeding ethnic resentment against whites.
A state-commissioned audit in 2011 found the courses fostered critical thinking and recommended expanding them. Independent researchers credited the courses with boosting the graduation rate in the majority-Hispanic district, as well as performance on state tests.
But under pressure from state officials, the school board dismantled the program in January 2012.
The 9th U.S. Circuit Court of Appeals heard oral arguments this month in a case brought by Tucson students that aims to overturn Arizona's ethnic studies law. A decision has yet to be announced by the three-judge panel.
BEFORE YOU GO
PHOTO GALLERY
Latino Books Once Banned In Arizona