Hip-hop producer and mogul Marion "Suge" Knight was the driver in a fatal hit-and-run in Compton, California, on Thursday afternoon, his lawyer confirmed to multiple news outlets.
The incident is currently being investigated as a homicide, The Associated Press reported.
ABC7 and FOX11 reported that Knight is expected to surrender to the police. Knight's attorney didn't immediately reply to HuffPost Entertainment's request for comment.
#BREAKING: Attorney for #SugeKnight confirms the mogul was involved in Compton hit-and-run. Expected to surrender to Sheriff Dept tonight.

— FOX 11 Los Angeles (@myfoxla) January 30, 2015
A spokesman for the Los Angeles County Sheriff told HuffPost that authorities were investigating an incident in which two men were hit by a car at Central and East Rosecrans avenues. The men were taken to the hospital, where one was pronounced dead. The condition of the other victim wasn't available. A deputy with the department said authorities were aware of reports of Knight's involvement.
James Edward Blatt, Knight's attorney, told the AP that Knight was escaping from two attackers when his vehicle struck two individuals. Blatt said the person killed was Knight's friend, who the lawyer identified as Terry. The other person was actor Cle Sloan, AP reported.
It's unclear if the individuals who were struck were the same people who allegedly attacked Knight.
Lt. John Corina, a Los Angeles County sheriff, told reporters that a red pickup truck hit the two men in a fast-food parking lot and left the scene.
"Looks like he drove backwards and struck the victims and drove forwards and struck them again," Corina said.
TMZ, which was first to report the news, said Knight fled the scene.
Earlier Thursday, rapper Ice Cube posted on Instagram that he, Knight and Dr. Dre were in Compton filming a commercial. According to The Hollywood Reporter, the shoot was for "Straight Outta Compton," an upcoming biopic about rap group NWA.
Knight, co-founder of Death Row Records, has a history of run-ins with the law. He was in the car when passenger Tupac Shakur was shot in 1996 by gunmen in another car. In 1997, he was sentenced to nine years prison for violating probation from an assault case. In 2008, he was arrested on suspicion of drug possession and aggravated assault.
In the summer of 2014, Knight was shot six times at a club in Los Angeles before attending the MTV Video Music Awards. He later suffered a blood clot from the incident. In October, Knight and comedian Katt Williams were arrested for allegedly stealing a paparazzo's camera. Knight is currently out on bail for the theft.
More from the scene...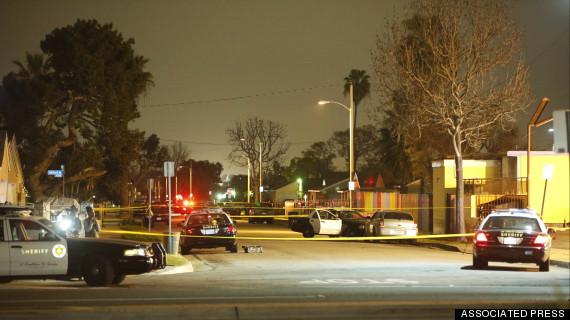 This is a developing story. Check back for updates.
BEFORE YOU GO
PHOTO GALLERY
Celebrity News & Photos