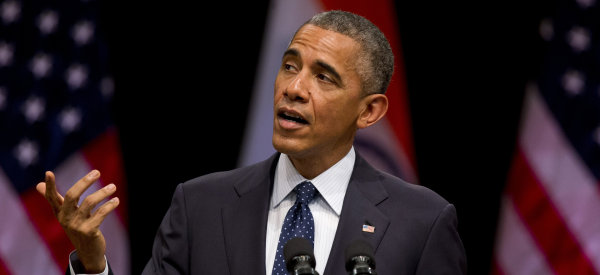 TOP STORIES
To get The Morning Email, HuffPost's daily roundup of the news, in your inbox, sign up here.
OBAMA WANTS TO END SEQUESTRATION "President Barack Obama will propose a budget on Monday that calls for an estimated 6.8 percent increase in discretionary spending -- an approach diametrically different from the last time Democrats sustained major midterm election losses … sources on both ends of Pennsylvania Avenue said Obama will propose increasing discretionary spending by about $70 billion." [HuffPost]

MH370'S DISAPPEARANCE OFFICIALLY DECLARED AN ACCIDENT Malaysia's Department of Civil Aviation classified the disappearance of Malaysian Airlines Flight 370 on March 8 an accident. The move allows for the department to declare all 239 passengers and crew dead, thus beginning the compensation process for their next of kin. [Reuters]
DYING TO BE FREE: THE TREATMENT FOR HEROIN ADDICTION WE AREN'T USING "An abstinence-only treatment that may have a higher success rate for alcoholics simply fails opiate addicts. 'It's time for everyone to wake up and accept that abstinence-based treatment only works in under 10 percent of opiate addicts,' Dr. Mary Jeanne Kreek said … A 2012 study conducted by the National Center on Addiction and Substance Abuse at Columbia University concluded that the U.S. treatment system is in need of a 'significant overhaul' and questioned whether the country's 'low levels of care that addiction patients usually do receive constitutes a form of medical malpractice.'"[HuffPost]
CO-PILOT AT CONTROLS BEFORE AIRASIA CRASH The black box recording revealed the French first officer of an AirAsia passenger jet QZ8501 was flying the plane at the time of its crash last month. [Reuters]
ALL QUIET ON THE LEBANESE-ISRAELI BORDER, FOR NOW "Israel and Lebanon's powerful Hezbollah militia appeared Thursday to be seeking calm a day after exchanging lethal fire across a fractious frontier that raised concern of another war erupting between the arch-enemies … Wednesday's clashes began with a Hezbollah attack that killed two Israeli soldiers near the border -- one of the most serious flare-ups of violence in the area since a 34-day war in 2006." [WaPo]
JAPAN, JORDAN SCRAMBLE TO MEET ISIS HOSTAGE DEADLINE Jordan has reached a prisoner swap agreement with the terrorist organization, while the fate of Japanese hostage Kenji Goto is uncertain. [AP]
THESE STATES SHELL OUT THE MOST FOR PUBLIC EDUCATION New York and D.C. take the top spot by spending an average of $19,000 per student. [HuffPost]
MCDONALD'S CEO OUT "McDonald's CEO Don Thompson will step down later this year, the fast food chain announced Wednesday. Steve Easterbrook, the company's chief brand officer, will take over as president and CEO on March 1. Thompson was one of a few black Fortune 500 CEOs. He has worked at McDonald's for nearly 25 years and has been CEO since 2012. His tenure leading the chain was marked by struggles for the burger giant, particularly in its home country. Sales at U.S. stores open a year -- an important metric for a restaurant chain's health -- stayed flat or declined for 13 months in a row until December, when they rose just 0.4 percent." [HuffPost]
WHAT'S BREWING
RICHARD SHERMAN: WHY DOESN'T ROGER GOODELL HAVE TO DO WEEKLY MEDIA SESSIONS? Great question, Richard. [NY Post]
REPORT: GIRLS ACADEMICALLY OUTPERFORMING BOYS GLOBALLY Sorry, boys. [HuffPost]
THE SMEARING OF 'SELMA' "This season, no film has been punished for its perceived sins more than 'Selma.' There is a brand of criticism that is, to its marrow, not just anti-Hollywood but anti-culture; it's a rare patch of ground that's shared by the anti-MSM right, the doctrinaire left, political cynics, and opportunistic ax-grinders. Some of its practitioners no longer even bother to give lip service to the idea that historical fiction is permitted to be anything other than actors mouthing raw facts; to them, any discussion of the special role artists play when they examine real events is just airy-fairy malarkey." [Grantland]
HOW HOLLYWOOD IS BROKEN And how Harvey Weinstein, Susan Wojcicki, Dick Costolo and others want to fix it. [Variety]
PUPPIES + CLYDESDALES = TEARS Budweiser's Super Bowl ad tugs all the heartstrings. [HuffPost]
'THIS SICK BEAT' Taylor Swift trademarked it. Also off the table are "Party Like It's 1989" and "Nice to Meet You. Where You Been?" [Vox]
ELTON JOHN AND HBO ARE MAKING A PILOT It will be set in 18th century Vienna. [Vulture]
THE 800-CALORIE FAMILY RECIPE YOU NEED ON FILE Two words: salmon pasta. [HuffPost]
ON THE BLOG
THE STAGES OF SLEEP DEPRIVATION "I've got the kid who can fight sleep like no one I've ever met in my entire life, conk out for 10 minutes, then party all night … Having gone through an intense period of sleep deprivation with this child, I now know how important sleep is. Sleep can seriously make or break you." [HuffPost]
BEFORE YOU GO
~ This guy shoveled the Boston Marathon finish line in the blizzard.
~ A cure for peanut allergy is in the works.
~ What it's like to be a pregnant photojournalist in a warzone.
~ Andrew Sullivan is getting out of the blogging business.
~ The shoe all the celebs will be rocking this spring is a bit out of our budget.
~ How you spend 200 hours making a Dior couture dress.
~ Julianne Moore's name isn't Julianne Moore.
~ Somebody greenlit an HBO comedy pilot that gives Jaden Smith a recurring role. Remember, this kid believes he can bend time-space.
~ They should be making a "Planet of the Bears."
~ Snapchat as you know it no longer exists.
~ Meet the new Air Force One.
~ More videos of Jimmy Fallon leading a "Grease" sing-a-long in a piano bar, please.
~ Your Chipotle packaging just got smarter.
~ You can now have Jeff Bridges put you to sleep each night.
~ Trace your name and other words throughout the world.
Send tips/quips/quotes/stories/photos/events/scoops to Lauren Weber at lauren.weber@huffingtonpost.com. Follow us on Twitter @LaurenWeberHP. And like what you're reading? Sign up here to get The Morning Email delivered to you.